Some of the most beautiful work of this craftsman, and many others, are in this book "Liège Gunmakers through their Work. 1800 - 1950".
For more detail see: LIEGE GUNMAKERS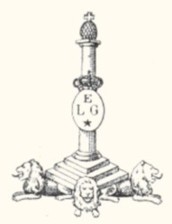 Gulpen Hubert
It is about a closed framework and pinfire revolver. Grooved cylinder with 6 blows. Calibre 9mm?
The loading is practiced by the side door being raised thanks to the action of an internal spring.
Unloading is done "with the rod" which slides in a guide integrated into the console and is maintained by a small leaf spring.
Wood grips of drowning (?) squared and are finely joined together by a through screw and two rivet washers.
This weapon carries the punches of the proofhouse of Liege, that is to say
Spangled ELG in an oval: acceptance of 1846 to 1893.
E spangled: countermark of the controller post 1877.
Period of manufacture: between 1877 and 1893.
Perhaps the mark G in a circle could, being allotted to GULPEN Hubert, industrialist of German extraction, manufacturer of weapons in Liege quay of the slaughter-house, 27.
It was registered with the proofhouse of 1910 to 1914.
It used indeed G ringed as marks of factory.
GG