Some of the most beautiful work of this craftsman, and many others, are in this book "Liège Gunmakers through their Work. 1800 - 1950".
For more detail see: LIEGE GUNMAKERS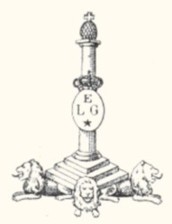 Halska V. & Cie
It is obviously about a shotgun to juxtaposed barrels and central percussion. In the absence of photographs of the table, locks and hammers, difficult to say some more.
I also raise on the barrels mark JNC.HY.ANDREW & C° LTD - TOLEDO STEEL WORKS - SCHEFFIELD - it is obviously about the English manufacturer of this barrel and of the type of steel employed is TOLEDO!! It was common that the manufacturer of Liège of a shotgun uses barrels bought abroad, especially at the 20th century, whereas the industry of factory of barrels of rifles of Vesdre had so to speak disappeared.
Lastly, the mark of the manufacturer of Liège HALSKA V & Co street Pre Top, 376 in Liege which was registered with the proof house of Liège of 1920 to 1954.
Mark HS interlaced in an oval was the trademark of this manufacture.
GG