Some of the most beautiful work of this craftsman, and many others, are in this book "Liège Gunmakers through their Work. 1800 - 1950".
For more detail see: LIEGE GUNMAKERS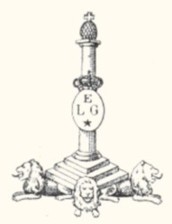 HAVART Mathieu
It is a double rifle, locks ahead with hammers external and key of opening "Top lever"
The barrels are in Damas.
The weapon carries the punches of the bench of tests of Liege, that is to say:
ELG * in an oval: acceptance of 1846 to 1893.
Peron: inspection post 1853.
D *: countermark of the controller post 1877.
EL in cursive letters: provisional test of use of 1852 to our days.
18.0 - 17.0: chokes barrels
NON POUR BALLE: chokes unrifled bores, of use of 1878 to 1897.
Other markings are:
THE CONTINENTAL: mark deposited the 30.03.1887 per Albert SIMONIS J.JANSSEN and DUMOULIN
PATS MARCH...... remains non readable: unknown marking.
SJ&D: Initial of same Simonis, Jansen & Dumoulin
25280: job number.
Y crowned on the barrels is also unknown for me.
Crowned MH (read so well, a little unobtrusive mark) could be the mark of a manufacturer of barrels of Chaudfontaine is HAVART Mathieu.
GG