Some of the most beautiful work of this craftsman, and many others, are in this book "Liège Gunmakers through their Work. 1800 - 1950".
For more detail see: LIEGE GUNMAKERS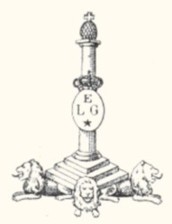 Henket N.J.
This weapon is a traditional revolver pinfire and open framework of type LEFAUCHEUX.
It is of caliber 12 and its barrel is with 6 shots. The loading is practiced by a door with spring placed on the right side of the frame and the extraction is done using the rod head of nail placed under the round barrel.
The weapon carries the lawful punches of the house of tests of Liège, namely:
Spangled ELG in an oval: final acceptance of the test, used of 1846 to 1893.
Y crowned: countermark of the controller used of 1853 to 1877.
Other markings are probably the fact of the manufacturer who is identified with my direction by letters NJH that one could reasonably allot to HENKET N.J arms manufacturer in Vivegnis then in Liege, which deposited of 1859 to 1884 four patents of which a pistol revolver with six shots loading with Lefaucheux cartouches (with pin).
GG