Some of the most beautiful work of this craftsman, and many others, are in this book "Liège Gunmakers through their Work. 1800 - 1950".
For more detail see: LIEGE GUNMAKERS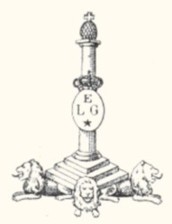 Henrion & Dassy
Box frame revolver, simple and double action with 5 shots calibre 8 mm "Lebel".
Rifled bore, octagonal and front sight in half-moon. Grooved cylinder.
The handle consists of two plates out of wooden finely squared joined together by a screw and two rivet washers out of brass.
Punches
ELG on star in a crowned oval: final acceptance post 1893.
J spangled: countermark of the controller post 1877.
R crowned: rifled bores, of use of 1894 to 1968.
The absence of "PV surmounted by a stylized lion" could induce that this weapon was tested (manufactured) between 1894 and 1898.
Markings
8m/m Leb. Indication of the calibre (8mm Lebel)
The figures 13 (carcass) and 14 are probably classifications of workshop, the HD perhaps also?
The manufacturer
HD could be the initial ones of Henrion & Dassy (before Heuschen).
The question
Manufactured to hundreds of thousands of specimens, by a multitude of "manufacturers" or firms, with forms (length barrel…), completions (nickelled, engraved…), calibres (7, 8, 9mm…) and accessories (trigger guard, safety…) with the request, sold under various names, the value in collection is generally only sentimental.
To find spare parts?
Only a miracle could make you find the part which would adapt perfectly. It is easier to make it remake by a good craftsman.
In appendix a publicity of the firm PIRE Jules & Co catalogue of 1899.
HPH