Some of the most beautiful work of this craftsman, and many others, are in this book "Liège Gunmakers through their Work. 1800 - 1950".
For more detail see: LIEGE GUNMAKERS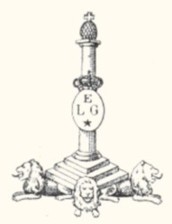 Pierre HERMINE-THIRY
This weapon of pocket is a revolver of the type VELO-DOG to long cartridges 6 mm.
The particular system of opening of this weapon is qualified by the inventor himself, in fact Pierre HERMINE-THIRY manufacturer of weapons with WANDRE (Liege), of system "DROP CYLINDRE"
This system was patented under the n° 184054 deposited at the Clerk's office of the provincial government of the BRABANT (Brussels) the 20.04.1905.
The weapon relates to the console, left face, the mark of inventor HT Bté.
The nickelled weapon is equipped with a long barrel grooved with extractor in star. It is assembled on a door rolls rocking on the right when one operates the key of opening placed in front of the frame
The round barrel is striped and carries a front sight in half-moon.
The lock is with rebounding hammer.
The trigger swells and without trigger guard is folding under the frame in a housing dug to this use.
The plates of stick out of mother-of-pearl and are connected by a through screw and two rivet washers.
The weapon carries the lawful punches of the bench of tests of Liège, namely:
ELG * in a crowned oval: acceptance post 1893.
G*: countermark of the controller post 1877.
R crowned: rifled bore post 1894.
PV surmounted of a stylized lion: test with the powder without smoke post 1898.
The other marks are:
L crowned: an uncertainty remains as for the significance of this punch which does not belong to the proofhouse. It could acts of a trademark of the founder of cylinder.
10: job number.
TF in a rectangle: mark firm THEATE Frères of Liege (see site)
NW: it should be a question of a mark of subcontractor unfortunately not identified.
GG