Some of the most beautiful work of this craftsman, and many others, are in this book "Liège Gunmakers through their Work. 1800 - 1950".
For more detail see: LIEGE GUNMAKERS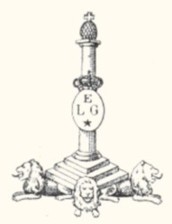 B. Heuseux
It is thus a splendid shotgun to juxtaposed Damas barrels, double locks punts, hammers swan neck, tightens stone with notch. The stock is said to the Frenchwoman bus of a not very visible animalist figure on the photograph. It's finely squared and is decorated with small silver nails to the intersections. It is also with cheek on the right side of the stock.
Locks are marked B. HEUSEUX on the right and A LIEGE of the other side!
The only element known on this arms manufacturer of Liège is that it worked with HERSTAL with one named JANSON in first half of the 19th century.
The Royal Museum of the Army preserves a pair of pistols at pistons and percussion offered by the inhabitants of Liège to Lt colonel COINTIN after the failure of the conspiracy orangist of Antwerp in 1831. (Ref. IV-604 and 605).
GG