Some of the most beautiful work of this craftsman, and many others, are in this book "Liège Gunmakers through their Work. 1800 - 1950".
For more detail see: LIEGE GUNMAKERS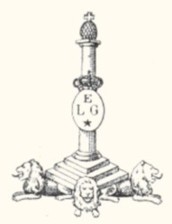 In de Betoü
This rather singular weapon cumulates several originalities which did not revolutionize arm industry.
This rifle with central percussion and bolt with combined movement (striker armed at the time of the rotary movement of opening) is gone back to 1880. It is of gauge 11 mm and the rearmed is side.
The back plate is articulated for the shooting at long distance (see patent below).
The weapon carries a rise to dial of the type Dutch 1871.
The bayonet is quadrangular Dutch type also.
The weapon is provided with a fast charger of 10 cartridges whose lid opens and is closed again automatically via the bolt!
The inventor of this weapon, the inhabitant of Liège (?) P J IN BETOÜ deposited in 1878 and 1879, two Belgian patents for:
A mechanism of weapon to be charged with the back, joining together the advantages of the old turntables of the systems to block, etc
A back plate with hinge which applied to the current weapons with fire, adapts those with the requirements of the shooting under great angles.
This arms manufacturer is not better known for us and all new elements would be welcome.
GG