Some of the most beautiful work of this craftsman, and many others, are in this book "Liège Gunmakers through their Work. 1800 - 1950".
For more detail see: LIEGE GUNMAKERS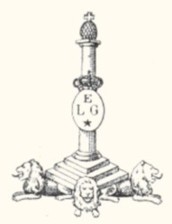 Jacquemart J. & Fils
The weapon
It is about a pistol pinfire top break of calibre 15mm.
The two round barrels are juxtaposed and smooth.
The opening is done using a key of the Lefaucheux type.
Curious and double removable system protection of the pins is installed with the thunder.
The trigger is under trigger guard with rest-finger.
The stick in wood (walnut tree?) is with "palmettos" and of Renaissance type.
Punches
The weapon carries the lawful punches of the proofhouse of Liege, namely:
ELG on star in a vertical oval: final acceptance, of use of 1846 to 1893.
N spangled: countermark of the controller post 1877.
Period of manufacture: between 1877 and 1893.
Marks
JJ in a circle: it is not a question of the mark of JOIRIS, Joseph who was J/J in a circle.
They could be the mark JACQUEMART J. & Fils which deposited in 1869 a patent for a system of metal obturator applicable to all the weapons with fire taking care by the breech.
8 lying on the amount of stick: probably mark unknown of subcontractor.
GG