Some of the most beautiful work of this craftsman, and many others, are in this book "Liège Gunmakers through their Work. 1800 - 1950".
For more detail see: LIEGE GUNMAKERS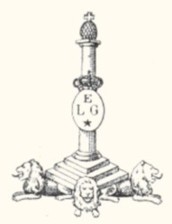 Jamain J.
It is about a shotgun to vertical percussion (Pinfire) and two Damas juxtaposed barrels of system Lefaucheux to two keys. The hammers are in the shape of fish and two locks are of type "behind". The trigger guard with volutes protects the two triggers. The stick in walnut is worked with English.
The weapon carries two punches of the proofhouse of Liege, namely:
EL in English letters: provisional test, of use of 1852 to our days.
17.4: gauge in mm, of use of 1889 to our days.
The weapon also carries several marks is:
J. Jamain Liège: they are in my humble opinion the mark the manufacturer of barrels but I could not find his coordinates.
Damas Leclere: it is the type of Damas used for the manufacturing of the barrels. Damas Leclere was one of most famous.
1457 (read so well?): it is the classification of the weapon.
The name of the manufacturer of the weapon in itself is not reproduced on the weapon as that was often the case at the time.
GG
For the Damas see : Leclere
Alain