Some of the most beautiful work of this craftsman, and many others, are in this book "Liège Gunmakers through their Work. 1800 - 1950".
For more detail see: LIEGE GUNMAKERS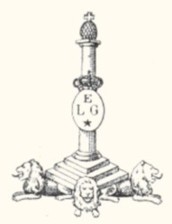 JAMAR Frères
Although the photographs don't show the weapon in its entirety, I think that it is about a shotgun to juxtaposed unrifled bores, lock hammerless and key top lever.
The weapon carries the punches of the proof house of Liege, namely:
Spangled ELG in a crowned oval: acceptance post 1893
PV surmounted of a stylized lion: test with the powder without smoke post 1898.
12 - 70 in an omega lying: gauge nominal and length of casing post 1924.
B spangled: countermark of the controller post 1877.
p into tiny (rhô in Greek): yearly letter of 1937. (Date of manufacture)
Choke 18.2: chokés guns: caliber to 22 cm of the breech post 1924.
The weapon is marked also JAMAR Frères PATENTS A LIEGE (Joseph and Fernand – proof house 1924/1958) street Saint Léonard, 395 in Liege and street of Bayards, 67-69 in Liege. This company is holder of 5 patents deposited of 1924 with 1932. It was holder of Belgian and German patents for rifle hammerless n° 25 with percussion by spiral springs.
Is the mention on tape NEW FRENCH 75 either a trademark deposited by brothers JAMAR (but it is unknown for me) or a posterior addition by a retailer?
43.725: should be a serial number
GG