Some of the most beautiful work of this craftsman, and many others, are in this book "Liège Gunmakers through their Work. 1800 - 1950".
For more detail see: LIEGE GUNMAKERS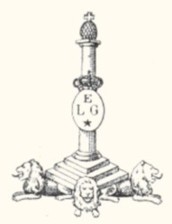 JAMAR-SMITS Jean Henri
This rifle appears to be "a falling block" although the photos do not show it. The calibre is 11x52R. It bears the inscription "J. B. Jamar "Smits fabt of arms in Liège".
Jamar -Schmits Jean Henri, arms manufacturer, rue Jolivet, 5 then rue Demeuse, 22 in Liège (Proofhouse 1874/1895) From 1867 to 1888, he filed five patents for:
- Modifications to the breech-loading rifle system.
- A rocking system applicable to luxury weapons loaded by the breech.
- An improvement to the Flobert rifle system.
- Transforming any lock weapon into a repeat weapon.
- Two shotguns with cannons sliding on the rocker firing the metallic cartridge with central or peripheral fire with automatic extractor, perforator and rebound plate (with Soleil Louis).
According to its owner, this gun is marked "???sse & Grandjean Btés". It is possible that he was Moisse M. de Liège, depositary in 1875 with Granjean M. of a Belgian patent for a rifle loaded by the breech.
Alain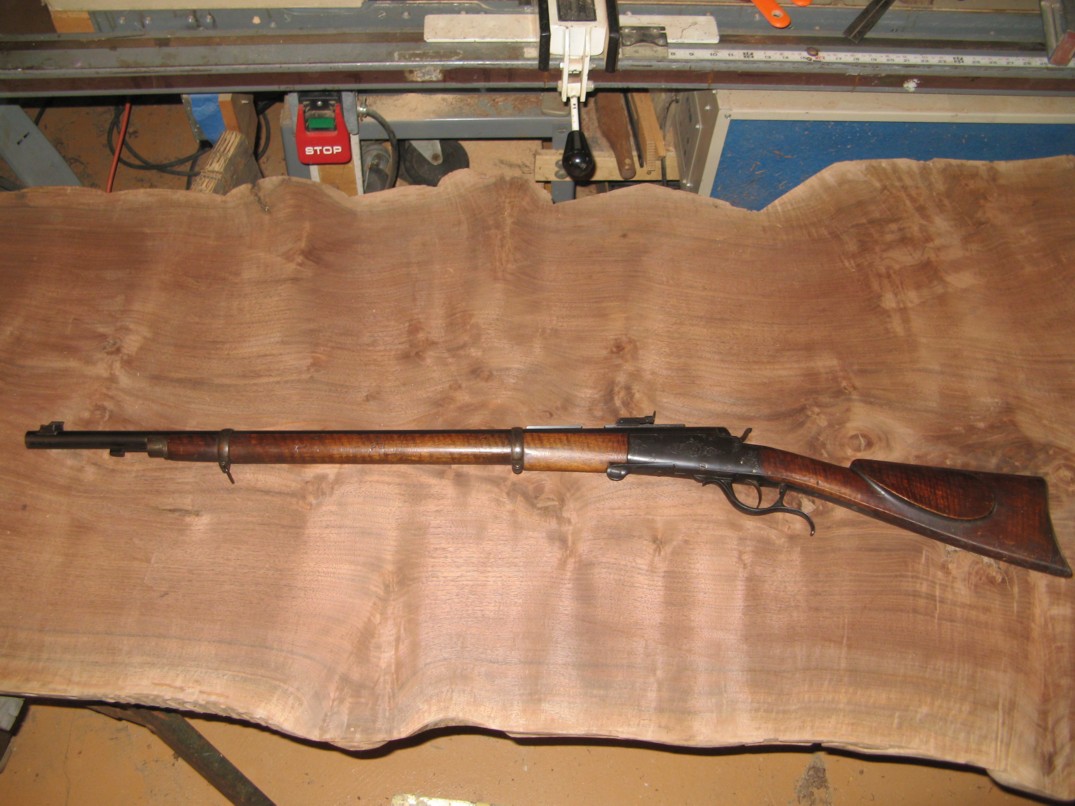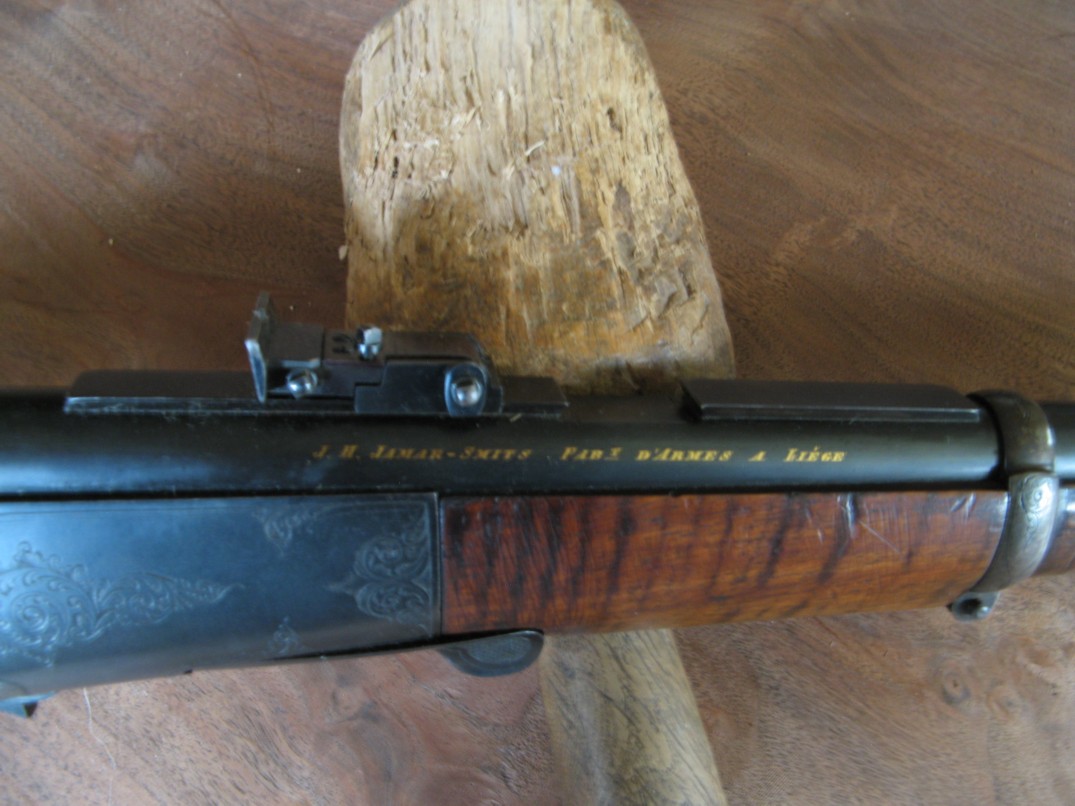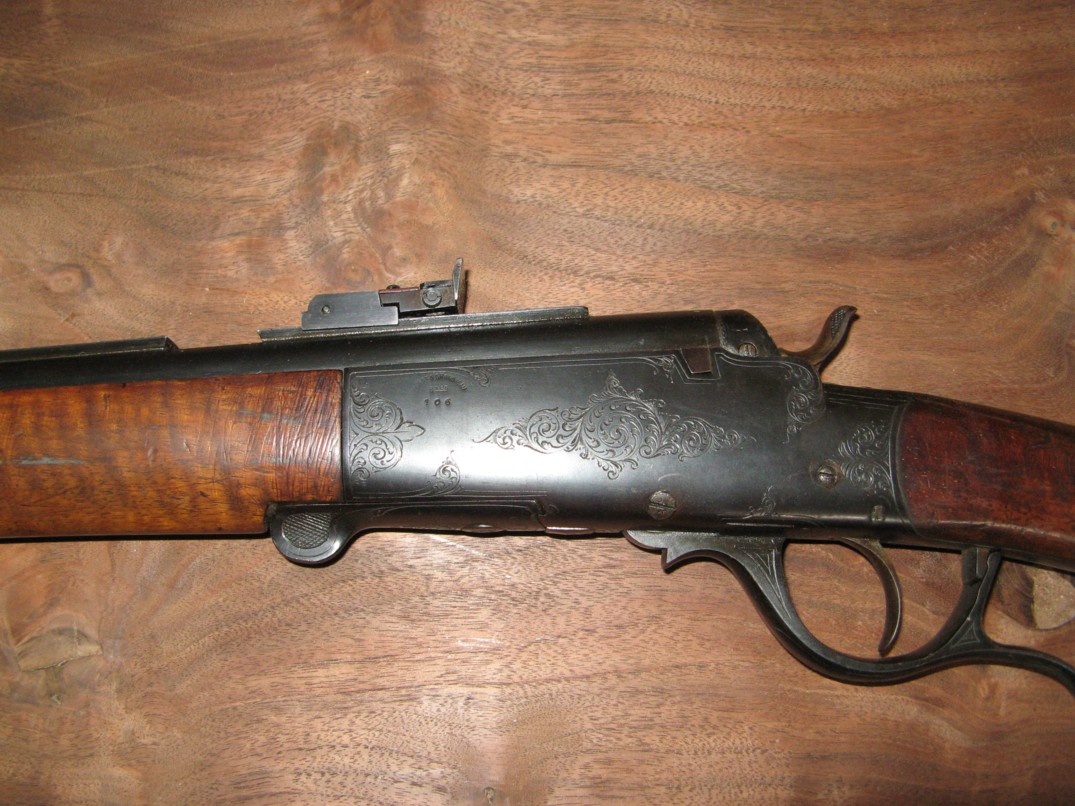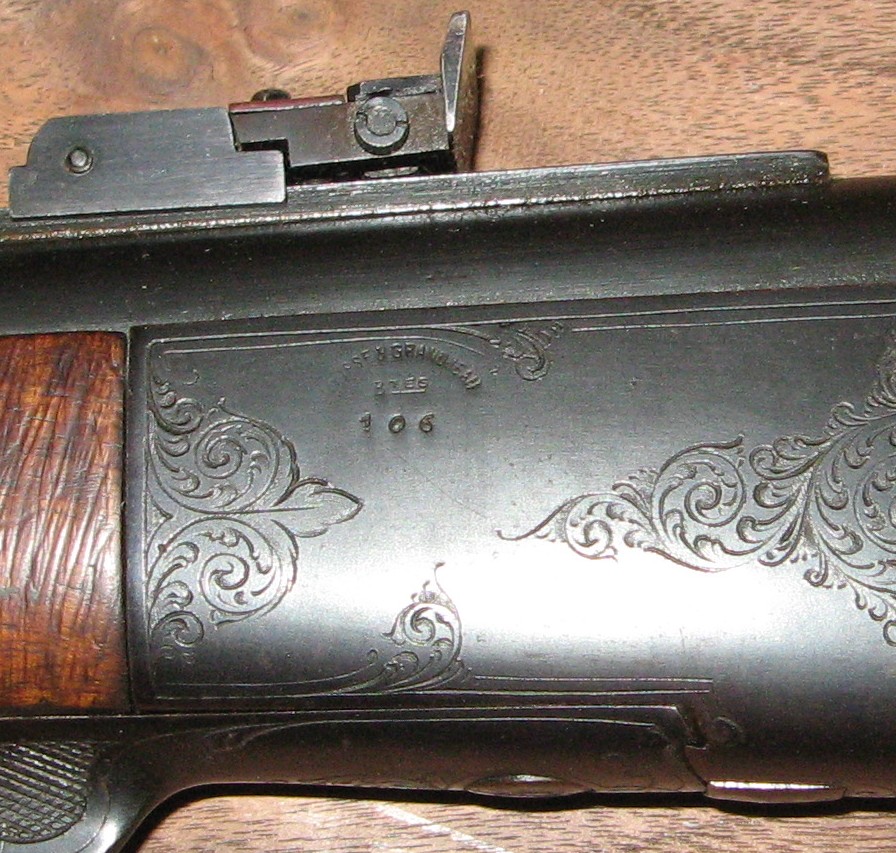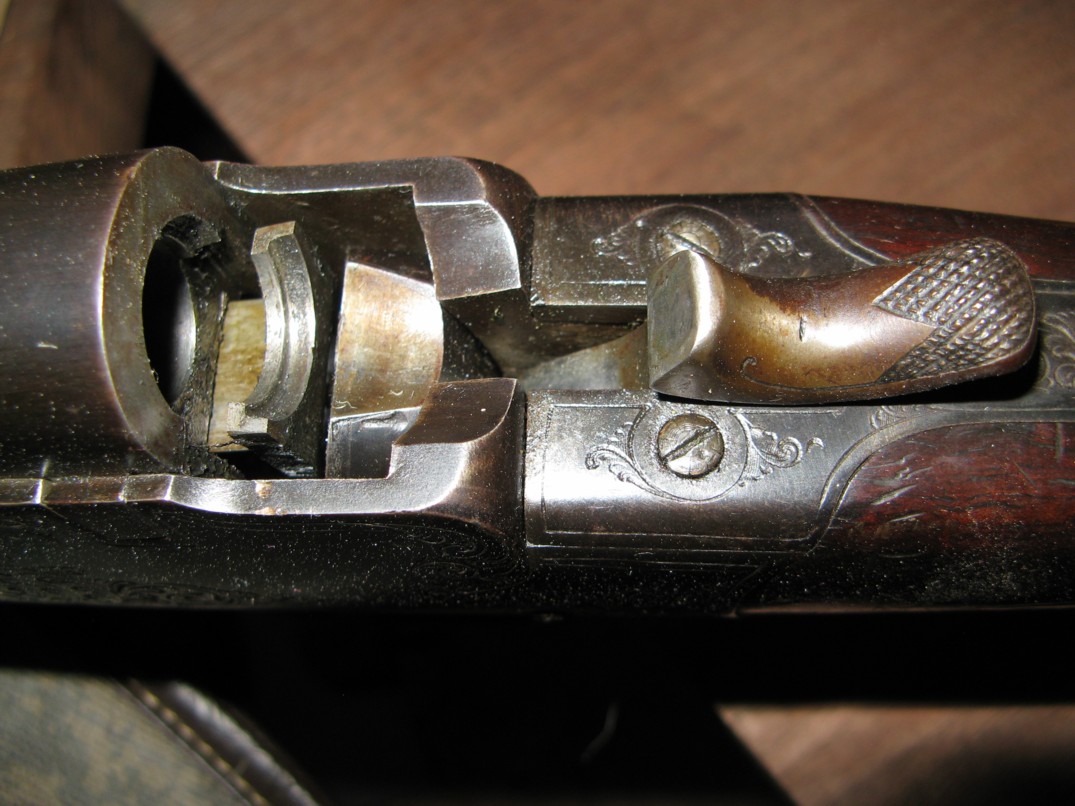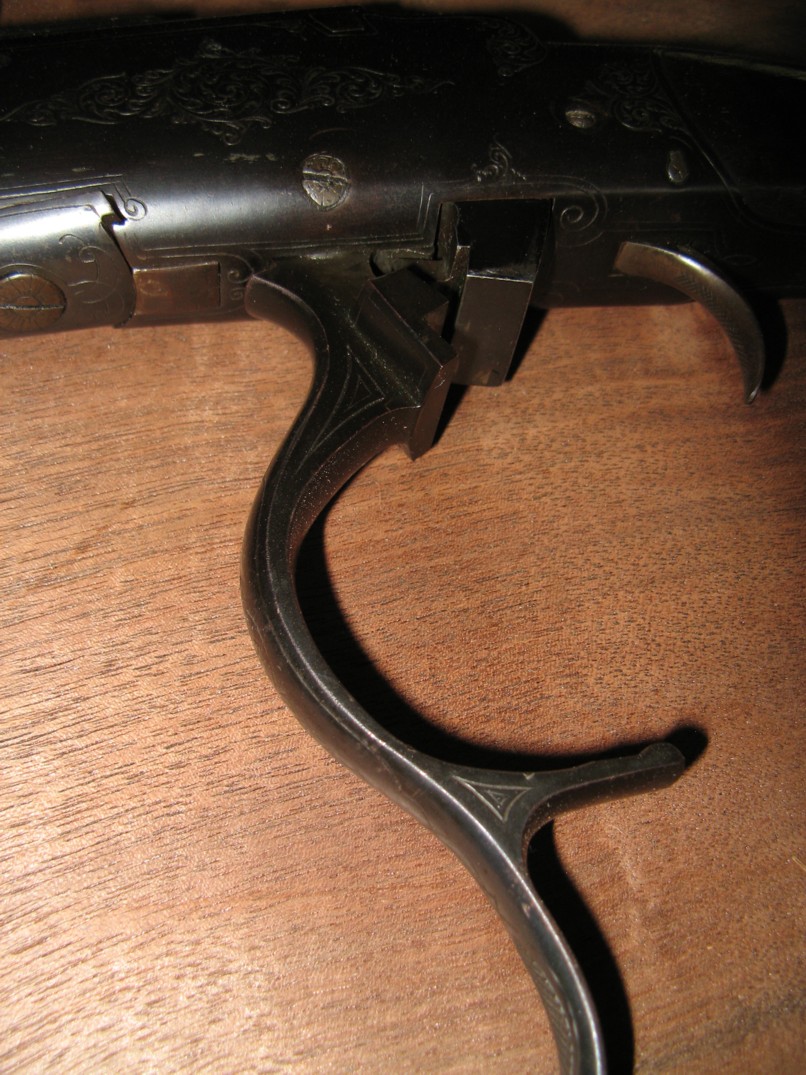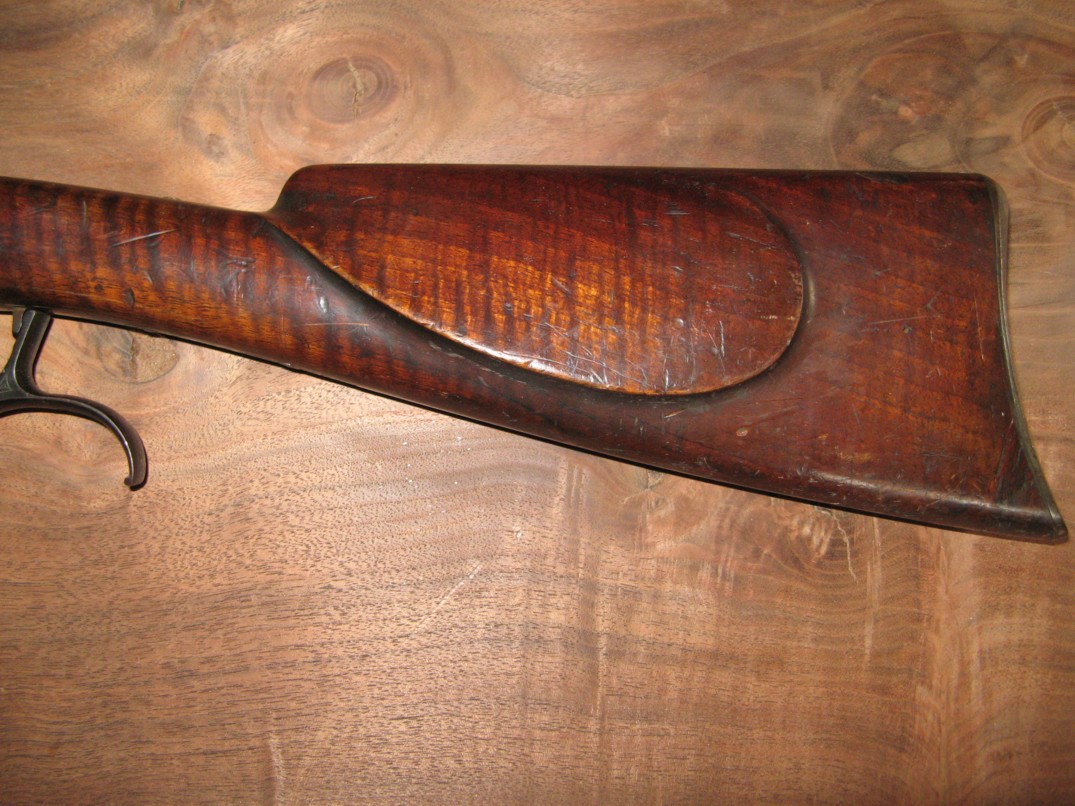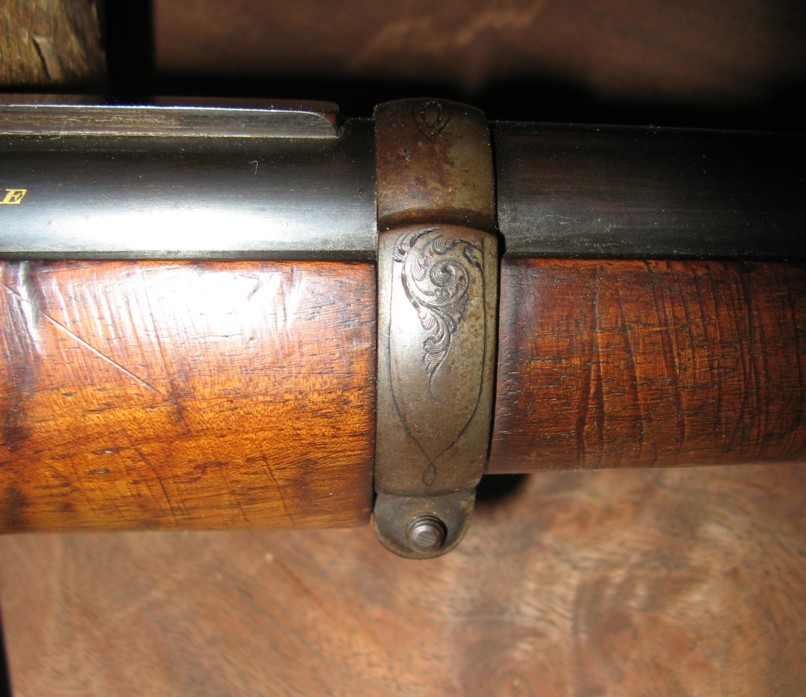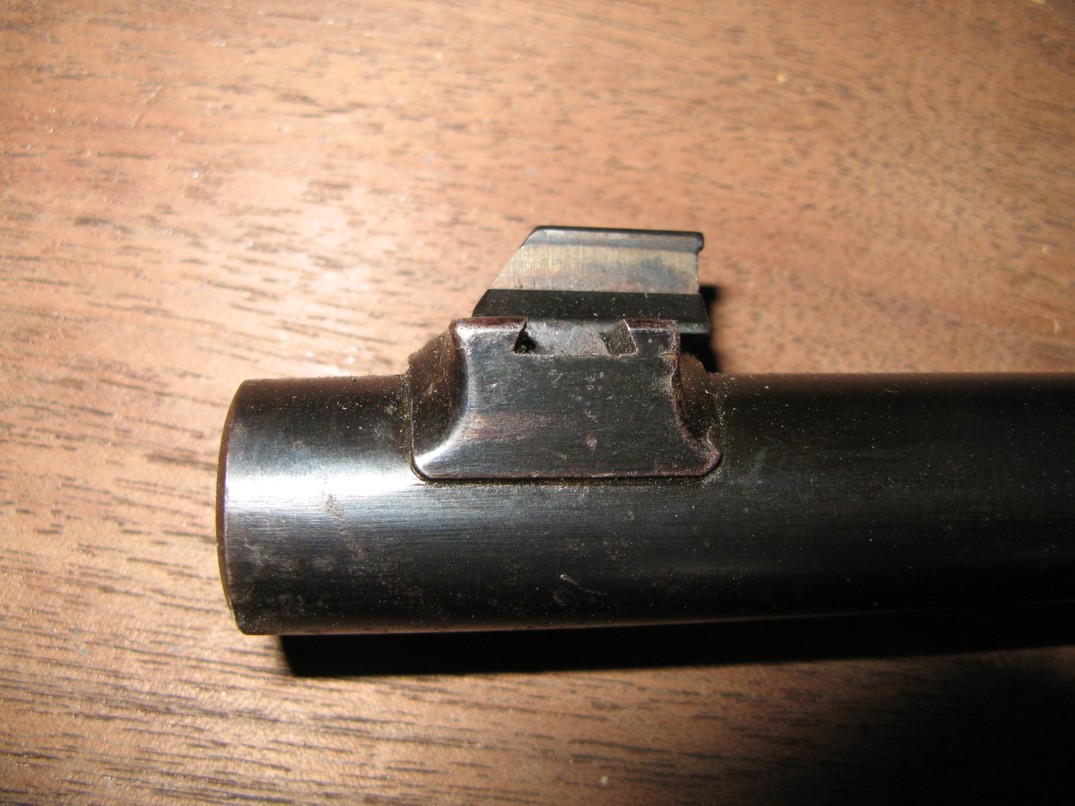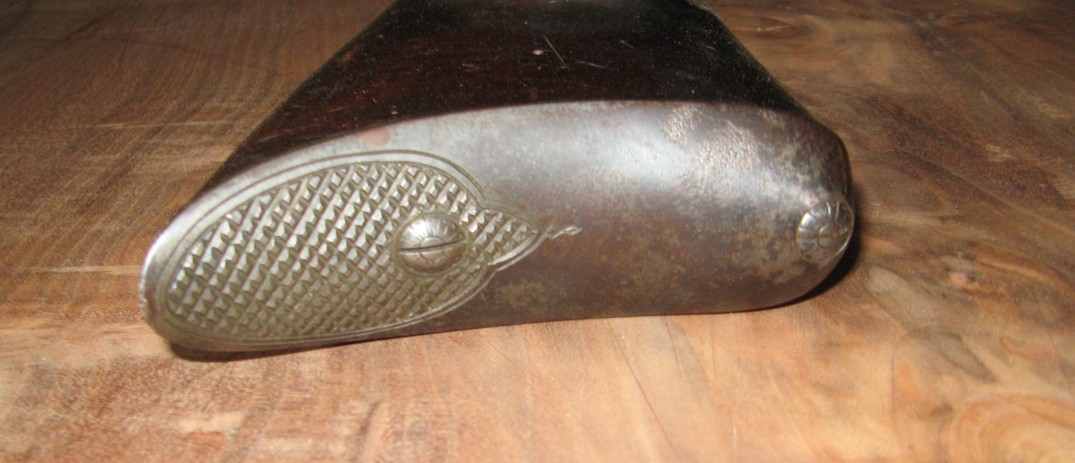 JAMAR-SMITS
Splendid shotgun to percussion one barrel with back lock.
The system of opening of the weapon is extremely interesting, the back part of the weapon actuated using a lever slips on a rail towards the back releasing the room thus.
The trigger guard is with volute and the rise also slides on a system of rail which is blocked using a screw butterfly.
The lock is engraved of foliage in hollow bottom and the trigger guard carries a damascened monogram. (Monogram of the "Conte de Ribaucourt")
The manufacturer of this weapon is JAMAR-SMITS Jean Henri, street Demeuse, 22 in Liege.
He was registered with the bench of test of Liege of 1874 to 1895.
In 1885, it deposited a Belgian patent concerning the transformation of any weapon with bolt into weapon with repetition.
I could not see any punch of BE on the photographs nor the gauge of the weapon.
GG
Many thanks to the "ROYAL ARMY MUSEUM" Bruxelles for the pictures.
(N° identification : F769 Collection of "Comte de Ribaucourt")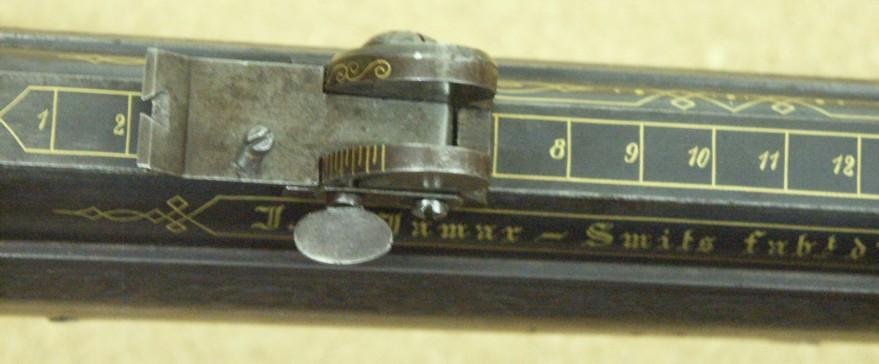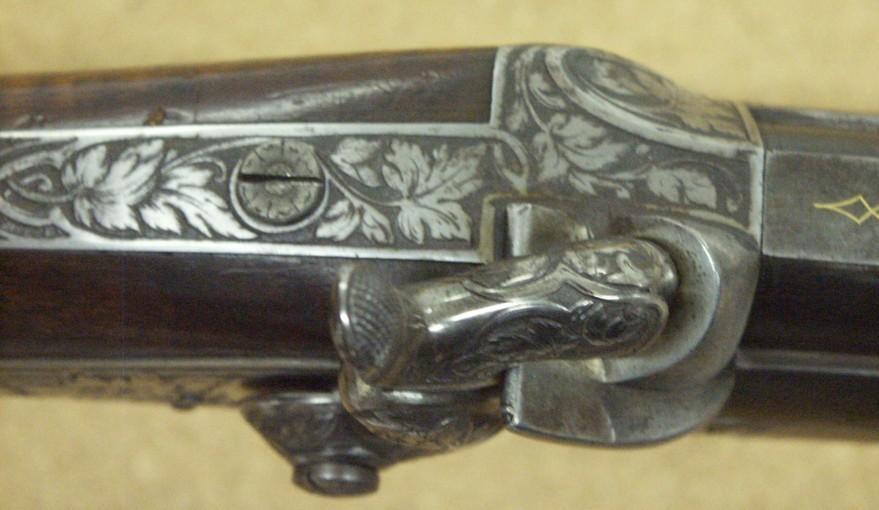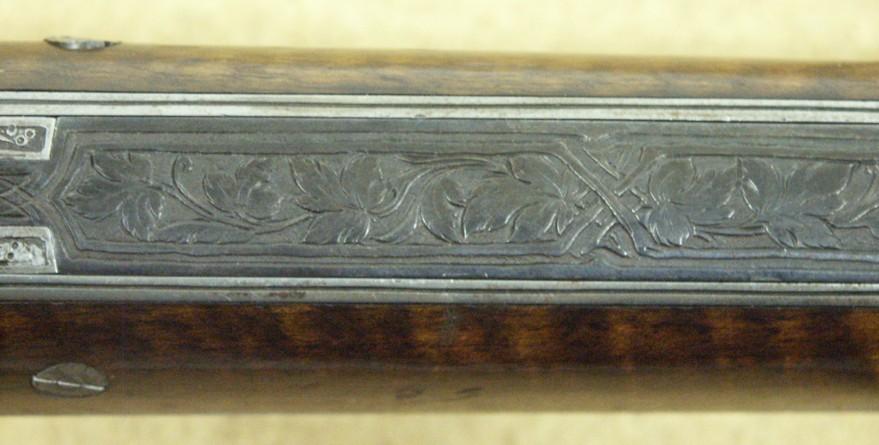 R B entrelacé : monogramme du Comte de Ribaucourt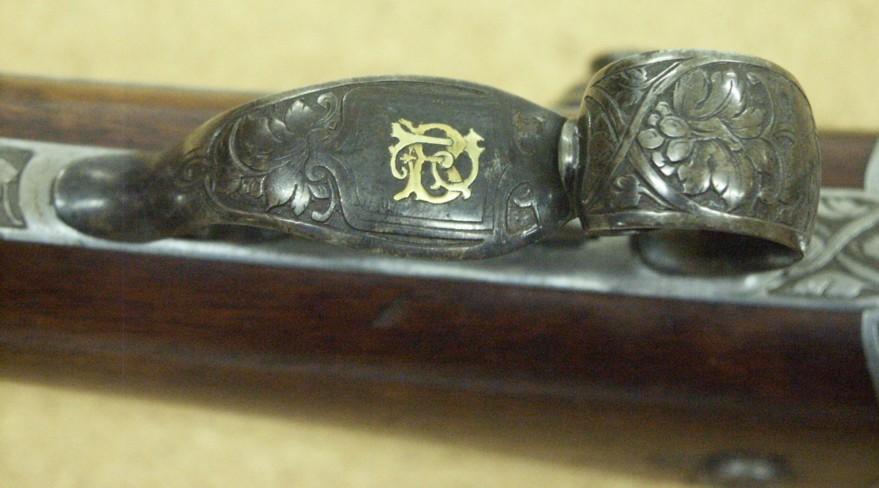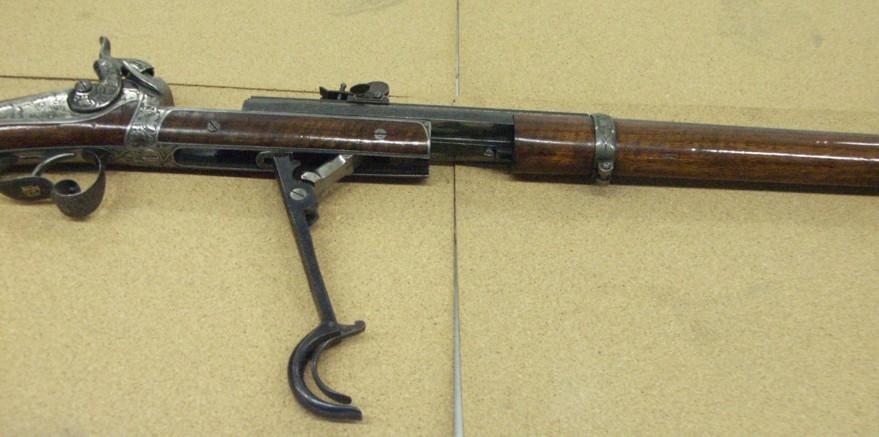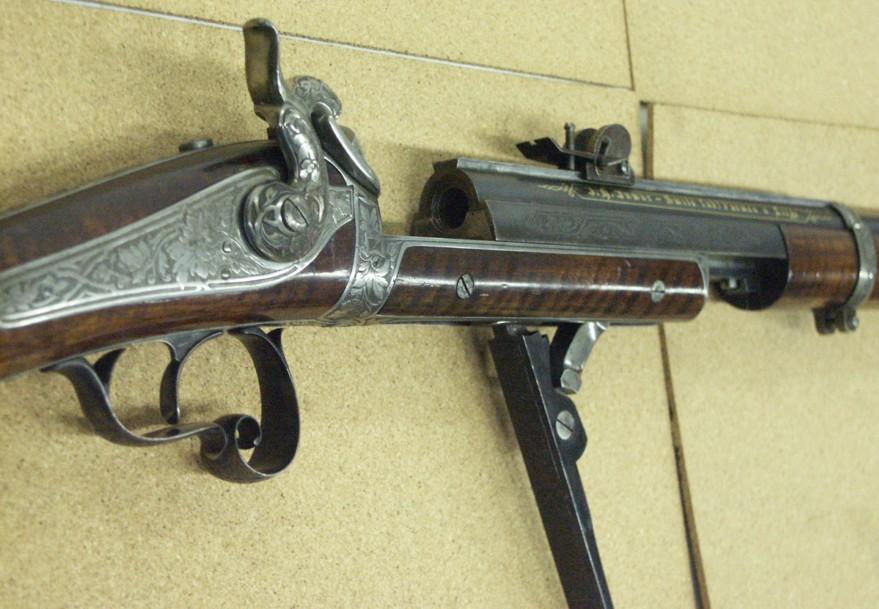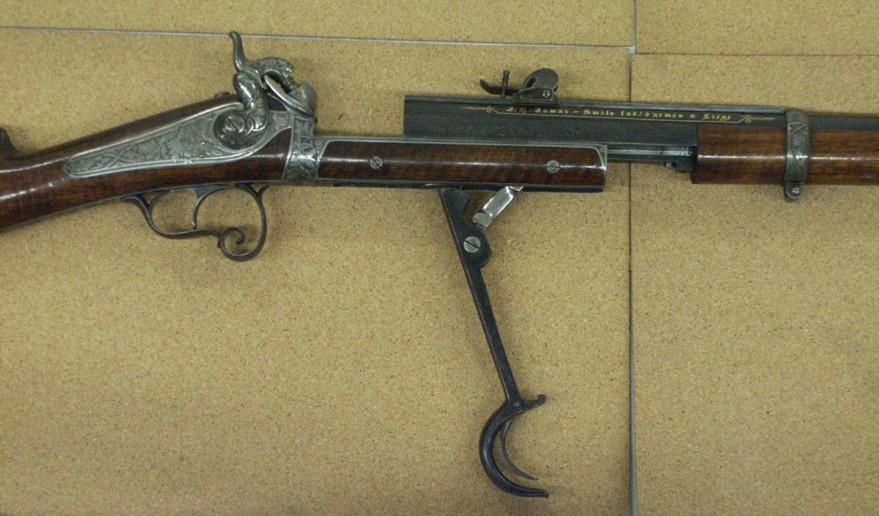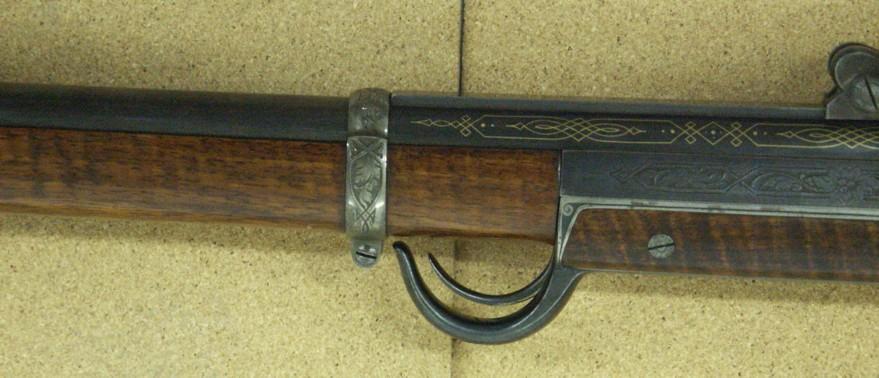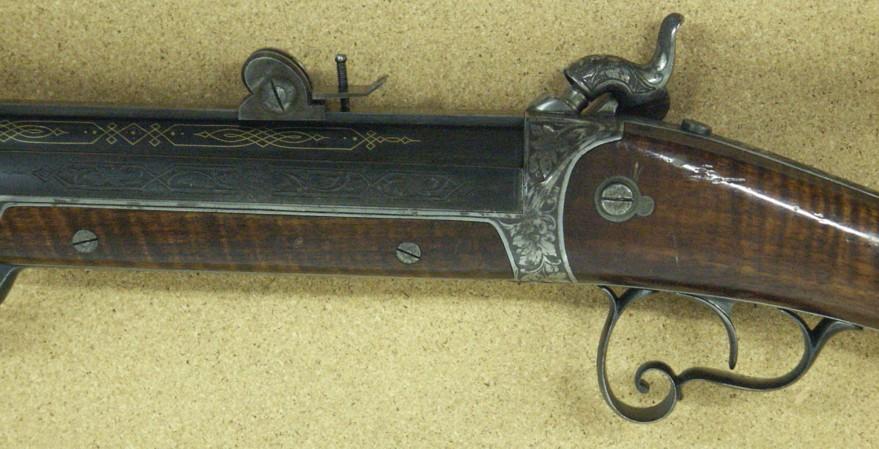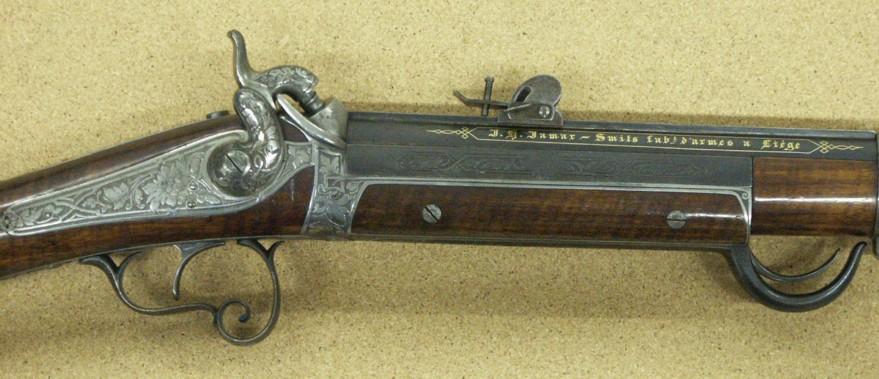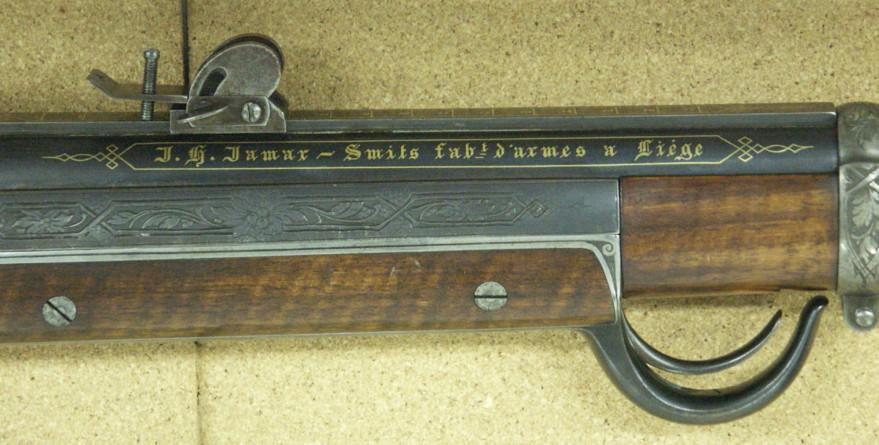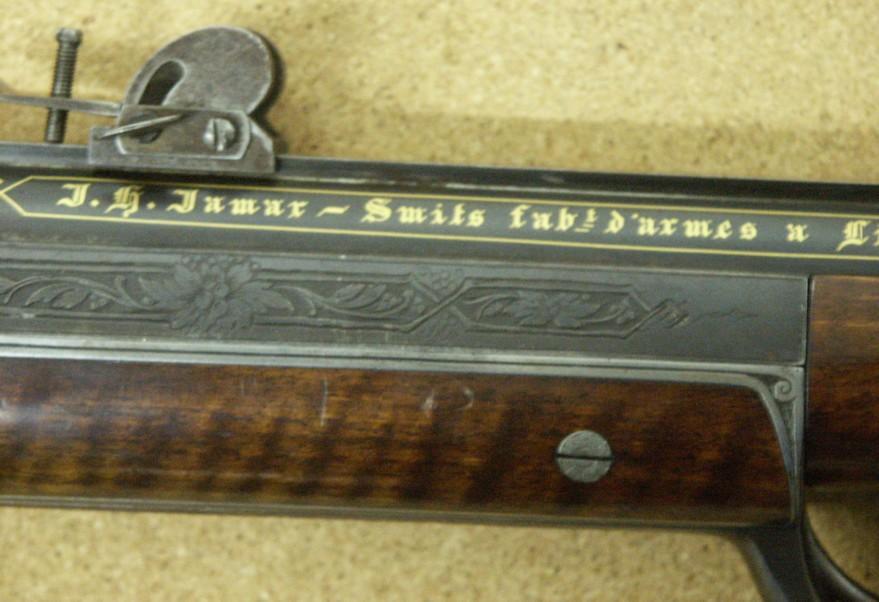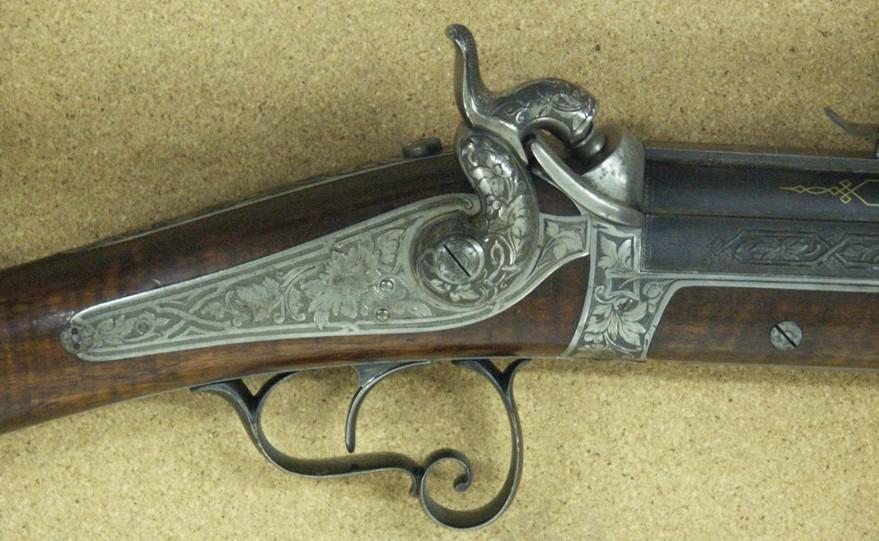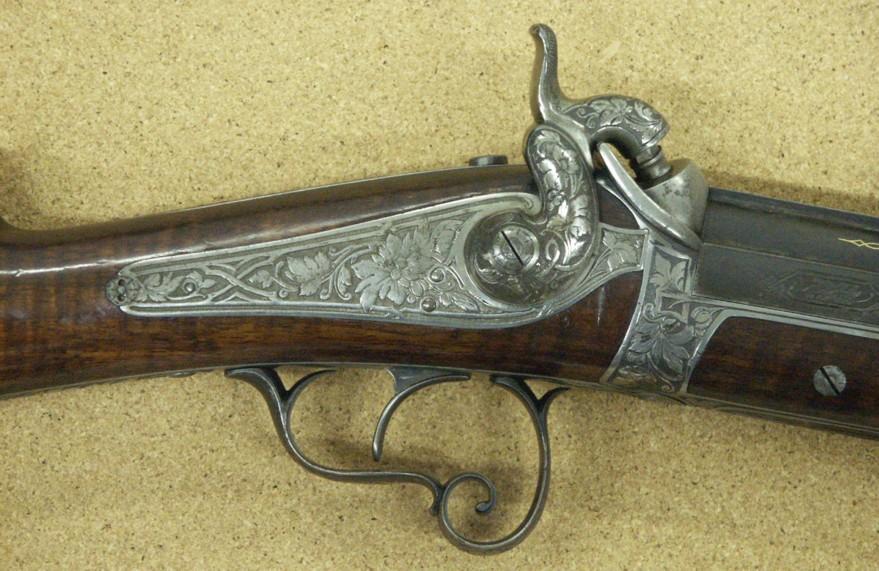 Another Jamar Jean Henri.
Curious mechanism!! By operating the bolt, it is all before which swivels, gun and longuess, and the whole advances to allow the loading.
Alain
Many thanks to the "ROYAL ARMY MUSEUM" Bruxelles and especially the section "ARMES PORTATIVE".
(N° d'identification : F170/180sup "Collection of Comte de Ribaucourt")