Some of the most beautiful work of this craftsman, and many others, are in this book "Liège Gunmakers through their Work. 1800 - 1950".
For more detail see: LIEGE GUNMAKERS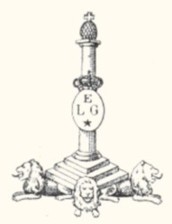 Marcel Jamin
This weapon carries all the traditional punches of the proofhouse of Liege:
Spangled ELG in a crowned oval: acceptance post 1893.
Peron: inspection post 1853.
E *: countermark of the controller post 1877.
EL in cursive letters: provisional test, of use of 1852 to our days.
CHOKE 16.3/???? : choke barrels: gauge in mm to 22 cm of the breech and the mouth. In use of 1898 to 1910.
Mark "LIEGE - BELGIUM": Without comment!!
Mark "JF": Manufacturer of the barrels Jean FALLA.
Manufacturer of the weapon.
The manufacturer is JAMIN Marcel, quay Saint Léonard, 41 in Liege which was registered with the registers of the manufacturers of the bench of tests of Liege of 1910 to 1933.
We think that its speciality was the weapon of hunting.
Mark MJ in a rhombus belongs to this craftsman.
Date of manufacture: marking CHOKE 16.3 existed until 1910 and JAMIN began its inscription with the proofhouse this year. It is thus extremely probable that it is one of the very first weapons which it presented at the test.
GG et Alain