Some of the most beautiful work of this craftsman, and many others, are in this book "Liège Gunmakers through their Work. 1800 - 1950".
For more detail see: LIEGE GUNMAKERS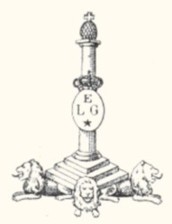 J. Jaspar peut-être
The weapon
It is about a revolver of pocket with open frame and central percussion.
The trigger without trigger guard is folding under the console.
The barrel is with 8 sides with a front sight "grain of barley" aimed in the barrel.
The smooth cylinder is with 6 rooms.
Brass or bronze the plates decorated don't correspond to the standard of these weapons.
It is thus possible that these plates, well in the American southern taste, were added subsequently.
Punches
The weapon carries the lawful punches of the bench of tests of Liege, namely:
Spangled ELG in a vertical oval: final acceptance, of use of 1846 to 1893.
U crowned: countermark of the controller, of use of 1853 to 1877.
Period of manufacture: between 1853 and 1877.
The manufacturer
The weapon carries the crowned mark JJ which is unknown for me but which, in any assumption, could correspond to one or the other manufacturer of Liège of the time, namely:
JACQUEMART J & Son, of Liege, a patent in 1869.
JASPAR J of Liege, it deposits 6 patents between 1861 and 1867.
JULIEN Joseph street Nagelmackers in Liege, it deposits 5 patents between 1865 and 1876.
Marks of subcontractors
Marks IP - Z&D (read so well) are markings of under treating ever identified.
GG
Many thanks to the "YOUNG Brothers" for the nice pictures.