Some of the most beautiful work of this craftsman, and many others, are in this book "Liège Gunmakers through their Work. 1800 - 1950".
For more detail see: LIEGE GUNMAKERS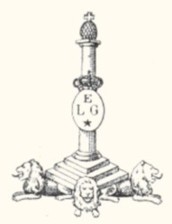 JHJR
Shotgun to percussion (cap & ball)
The unrifled bores are juxtaposed and of gauge 28.
Locks are of type "behind" or retrograde!
The weapon carries an engraving hunting and to foliage.
The stick out of wooden of walnut is worked with English.
Are pass-rods envisaged under the band connecting the barrels but this rod seems to have disappeared?
Punches
This part carries only one visible punch, the others having probably disappeared by wear.
It is thus about the punch of final acceptance ELG on star in an oval vertical, of use with the proofhouse of Liege of 1846 to 1893.
Marks
Mark JHJR struck the barrel belongs in all probability to the manufacturer of barrels of rifles of the valley of Vesdre close to Liege. These initials don't appear in the list of the known gunners.
28 should be the gauge of the weapon corresponding to 14,4 mm.
The manufacturer did not leave any marking on the weapon, there will remain unfortunately anonymous as it wished it.
GG