Some of the most beautiful work of this craftsman, and many others, are in this book "Liège Gunmakers through their Work. 1800 - 1950".
For more detail see: LIEGE GUNMAKERS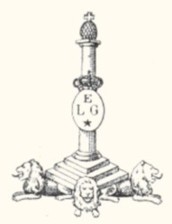 JOBE T.
The weapon
Shotgun to juxtaposed barrels of gauge 12 with central percussion. The key of opening "Top lever" is placed between the external hammers. The engraving of foliage of the turntable is in hollow bottom, the stick in drowning is of English type.
Punches
This arms has the punches of the proof house of Liege. I identify the following punches:
EL in cursive letters: provisional test, of use post 1852.
17,4/18.2: chokés guns: cal. in mm to 22 cm of the breech and the mouth, of use of 1910 to 1924.
It misses the punch of final test (ELG in a crowned rhombus) and the punch of inspection (Perron).
Markings
The manufacturer is in my opinion JOBé T. of Herstal, small craftsman only known by a patent which it deposited in 1892 for a system of bolt to the rifles called "to key between the hammers".
It is probably this system of closing which is reproduced on this weapon manufactured between 1910 and 1924. !!
DD in an oval lying should be the mark of the manufacturer of guns is DELCOUR-DUPONT Jean de Fraipont-Nessonvaux close to Liege
Crollé Damas indicates that this weapon is manufactured in DAMAS (see explanations on the site) the crollé Damas (buckled for French) one of best the Damas was manufactured in the area of Liège.
The "damasquinure" inscriptions (incrustation of gold letters) are unfortunately illegible for me. It is probably about the name of an arms manufacturer retailer or an owner of the weapon?
GG