Some of the most beautiful work of this craftsman, and many others, are in this book "Liège Gunmakers through their Work. 1800 - 1950".
For more detail see: LIEGE GUNMAKERS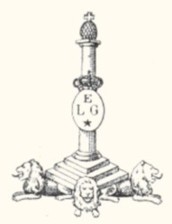 Joiris
JOIRIS, Joseph (Belgian bench test 1925 - 1927) mark J J in an oval, two letters one with the top of the other and being separated from a horizontal bar.
JOIRIS J - VANDEN BERGH and GEURTEN Partnership 1927.
In 1925 JOIRIS J. the activity begins again of DELCOMMUNE Auguste & Cie (Belgian bench test 1920/1925).
JOIRIS Jos & GEURTEN (Belgian bench test 1929 - 1932 ).
JOIRIS Jos. (Belgian bench test 1932/1937).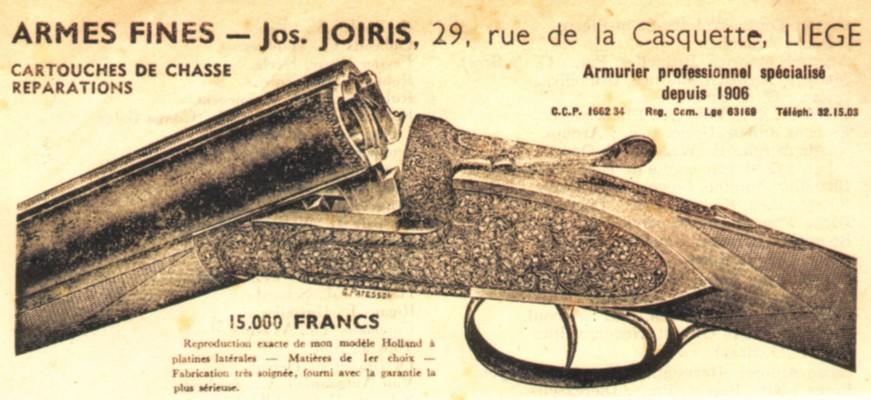 JOIRIS Joseph (Maybe)
The weapon
This weapon is a shotgun to be charged by the mouth. The barrels are juxtaposed and lock with flint. The barrels are fixed by keys or drawers. The stick in wood of walnut is carved with the Frenchwoman i.e. "with head". The buttplate is on "return". It misses the rod of loading. This weapon seems well to be a weapon of draft intended for export towards Africa. This type of weapon of poor quality was tardily manufactured in Liege (to the surroundings of war 1914/18). It was indeed easier for the African purchasers to find powder in bush than manufactured cartridges with pin or central percussion.
Punches
This weapon carries the lawful punches of the bench of tests of Liege, namely :
ELG on star in a vertical oval: acceptance, of use of 1893 to our days.
R and T spangled: countermarks of the controllers post 1877.
EL in English letters: provisional test, of use of 1852 to our days.
L in English letter, optional provisional test for guns stops rough, of use of 1924 to 1968.
15, 2: gauge in mm, of use of 1889 to our days.
Marks
Crowned JJ: I could not find this mark in the ad hoc file, however several arms manufacturers of Liège could possibly correspond to these initial, namely:
JACQUEMART Joseph (widow and its children) street of Poncay with HERSTAL. Holder of a mark JJ, specialized out of rifles with hammers and hammerless.
JOIRIS Joseph, arms manufacturer street of the Cap, 29 in LIEGE since 1906.
JAMART Joseph, street St Léonard, 395 in LIEGE. Deposit 3 patents of 1919 to 1922.
AG and AM: mark unknown probably subcontractors.
GG