Some of the most beautiful work of this craftsman, and many others, are in this book "Liège Gunmakers through their Work. 1800 - 1950".
For more detail see: LIEGE GUNMAKERS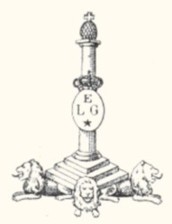 JOIRIS Jean, VANDENBERGH G & GEURTEN J.
Revolver with central percussion of type bulldog hammerless (hidden hammer).
Also called "uneven" in Liege. The trigger without trigger guard is folding to facilitate the setting out of pocket. The short barrel is round and is provided with a front sight in half moon. The grips in drowning squared are connected by a through screw and two rivet washers.
It carries the punches of the bench of tests of Liege, namely:
- R crowned: rifled bore - post 1894
- Surmounted statement of a stylized lion: test with the powder lives post 1898.
- Spangled ELG in an oval crowned (not seen on the photographs) acceptance post 1893.
I also saw, I think, the mark 6,35 which is the caliber of the weapon.
Mark J/J in an oval is the mark of manufacturer JOIRIS Jean, VANDENBERGH G & GEURTEN J. weapons manufactory and partnership, street Dony, 35-37 in Liege about 1928.
GG