Some of the most beautiful work of this craftsman, and many others, are in this book "Liège Gunmakers through their Work. 1800 - 1950".
For more detail see: LIEGE GUNMAKERS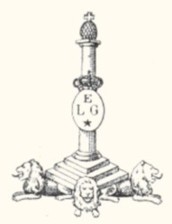 Kaufmann Brothers
It is about a shotgun top break and central percussion.
The system is of type "hammerless" and the opening is made thanks to the key TOP LEVER. Behind this key a safety with slide of the Galand type is.
The juxtaposed barrels are smooth and of gauge 12.
The locks called "ahead" are engraved "with bouquets" style typically of Liège. The stick in walnut is worked with English.
On is the barrels, the band of aiming is "guilloched" and the line of sight consists of one insert to the fine gold, seems you it?
The weapon carries the punches of the proofhouse of LIEGE, that is to say:
ELG* in a crowned oval: acceptance post 1893.
AD*: countermark of the controller post 1877.
Perron: inspection, of use of 1853 to our days.
PV surmounted of a stylized lion: test with the powder without smoke, of use of 1898 to 1968.
Choke 18.2: chokes barrels: gauged to 22 cm of the breech. In use of 1924 to 1968.
12-70 in an omega: gauge nominal and length of the casing, of use of 1924 to our days.
Letter m (tiny): yearly letter of 1934.
The weapon also carries the following marks:
KAUFMANN BROTHERS: manufacturers of weapons installed in LIEGE street of Harlez, 3 and registered with the proofhouse of 1932 to 1948.
LLH: mark of the manufacturer of barrels of rifles Laurent LOCHET-HABRAN in Jupille Liege (see the site).
SPECIAL STEEL MARTIN SIEMENS ANGLAIS: type of steel used for the barrels.
2234: number of the weapon.
AD engraved on the trigger guard: they are most probably initial the first owner.
GG