Some of the most beautiful work of this craftsman, and many others, are in this book "Liège Gunmakers through their Work. 1800 - 1950".
For more detail see: LIEGE GUNMAKERS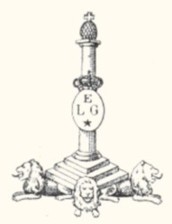 Max KNOLL
Here an automatic gun M.K. MOD. 1912 calibre 6,35 some dismountable with the hand.
It weighs 345 grams and has only twelve interchangeable parts.
This weapon has a special indicator, which makes visible the cartridge in the barrel.
It could be provided engraved and nickelled with plates out of mother-of-pearl and was also available into 7,65.
The manufacturer also provided this gun on request with firm of the customer!
M.K. is in fact max KNOLL (bench of test 1899/1914) German citizen bench in Liege street of the Angels, 23. It deposited ten patents in Belgium during this time. These ten patents all are relative to improvements with the shotguns. It thus seems that the automatic gun in question is not its invention.
GG