Some of the most beautiful work of this craftsman, and many others, are in this book "Liège Gunmakers through their Work. 1800 - 1950".
For more detail see: LIEGE GUNMAKERS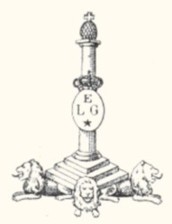 Jean Lahaye-Marbaise
The weapon
It is about a shotgun to central percussion, the barrels are smooth and juxtaposed, of gauge 16. Locks with external hammers are of type "behind".
The closing of the weapon consists of a double key under the barrels, also called "key Lefaucheux".
The stick out of wooden of walnut (?) is worked "with English" with squared hand-shield.
Punches
The weapon carries the lawful punches of the proofhouse of Liege, namely:
ELG on star in a crowned oval: final acceptance post 1893.
Peron: inspection post 1853.
EL in English letters: provisional test, of use of 1852 to our days.
16 C in a rhombus: gauge, of use of 1898 to 1924.
G - W and P reversed under star: countermarks of the controllers post 1877.
PV surmounted of a stylized lion: test with the powder without smoke, of use of 1898 to 1968.
P underlined: yearly letter (between 1898 and 1924). Unfortunately the list of 1900 to 1921 disappeared.
CHOKE 16.3/16.8: chokes barrels: gauge in mm to 22 cm of the breech and the mouth. In use of 1910 to 1924.
1Kg 232: weight of the barrel which can draw from the powders without smoke (weapons smooth) except for the gram. In use of 1924 to our days.
Marks
Are those can many, we raise JL on the barrels which is perhaps the mark of a manufacturer of barrels of rifles, in any assumption, Jean Lahaye-Marbaise de Fraipont?
The manufacturer, as that was often the case at the time, did not leave any trademark making it possible to identify it! There will remain unfortunately anonymous.
Period of manufacture: between 1910 and 1924.
GG