Some of the most beautiful work of this craftsman, and many others, are in this book "Liège Gunmakers through their Work. 1800 - 1950".
For more detail see: LIEGE GUNMAKERS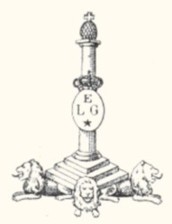 LARDINOIS Nicolas Charles
Rifle of shooting of precision of the Swiss type, with percussion, trigger strecher, stick with hook, trigger guard with volutes, maulstick.
LARDINOIS Nicolas Charles was an arms manufacturer suburb Vivegnis, 112 in Liege.
It was registered with the proof test of Liège of 1850 to 1862.
From 1851 to 1869, it deposited twelve Belgian patents of which several for rifles.
It is probable that rifle presented forms part of the number although it especially worked on weapons to charge by the breech.
GG
Many thanks to the "ROYAL ARMY MUSEUM" Bruxelles and especially the section "ARMES PORTATIVE".
(N° identification : F123/181inf Collection of "Comte de Ribaucourt")