Some of the most beautiful work of this craftsman, and many others, are in this book "Liège Gunmakers through their Work. 1800 - 1950".
For more detail see: LIEGE GUNMAKERS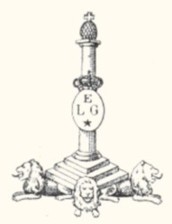 J.L. Leclercq & Cie
It acts of a single stroke rifle and with crack opening thanks to the action of a key known as "serpentine" placed on the right side of the breech.
Although that is not notified in the request, I think that this weapon is with annular percussion in 22LR.
It carries the lawful punches of the proofhouse of Liege, namely:
Spangled ELG in a crowned oval: final acceptance post 1893.
Spangled BB: countermark of the controller post 1877.
EL in cursive letters: provisional test, of use of 1852 to our days.
104: should be a serial number.
Manufacturer
The partially unobtrusive mark is J.LECLERCQ.
Many arms manufacturers of Liège carried this patronym at the XIXe century of which:
LECLERCQ Joseph, arms manufacturer with SAINT REMY (Liege) who deposited two patents of 1859 to 1886. This one seems to me quite former to the present weapon.
LECLERCQ J.L. & Co in Liege which was registered with the proofhouse of tests of Liege of 1890 to 1891.
It corresponds better in the dates.
In appendix a rifle LECLERCQ manufactured by company J.B. Rongé in Liege.
This type of weapon was manufactured in great quantity by several arms manufacturers of Liège and is of rather reduced value.
GG