Some of the most beautiful work of this craftsman, and many others, are in this book "Liège Gunmakers through their Work. 1800 - 1950".
For more detail see: LIEGE GUNMAKERS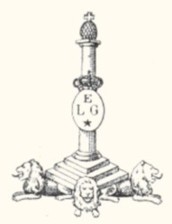 Léon LECLERCQ
This weapon is without question of origin of Liège.
It is about a revolver with central percussion and box frame called PUPPY compared to its small size. PUPPY is the diminutive of BULLDOG.
The weapon is of uneven-hammerless type.
The barrel is with 8 sides with front sight in half-moon.
The cylinder (5 or 6 blows?? in gauge 6,35??) is grooved.
The loading is practiced by a right side door, dropping thanks to the action of an internal spring.
Unloading is done using the rod swivelling on an axis.
A safety is placed on the left side of the carcass.
The trigger without trigger guard is right with the swell end and opening.
It is folded up under the carcass to facilitate the setting out of pocket or case.
The stick consist of two plates out of wooden (walnut?) squared connected by a transverse screw and two rivet washers.
Punches
The weapon carries the punches of the proofhouse of Liege, namely:
R crowned: rifled bore, of use of 1894 to 1968.
H spangled: countermark of the controller, of use of 1877 to 1968.
PV surmounted of a stylized lion: test with the powder without smoke, of use of 1898 to 1968.
If you look on the internal face of the barrel by raising the door, you will notice certainly a punch representing letters E.L.G on star in a crowned oval.
This punch represents valid final acceptance since 1893.
The manufacturer
Many of these small weapons of great consumption did not carry marks of manufacturer. On the amounts, we notice several marks (3?) only one is really readable is crowned LL!
Several arms manufacturers of the end of the XIX century, beginning XXe carried these initial such as for example Leon LECLERCQ, arms manufacturer of Liège, registered with the proofhouse of 1908 to 1940, it was registered street on the fountain, 88 in LIEGE. Nothing states however that it made use of this mark. It sold nevertheless revolvers of all types!
Appendix: a publicity of this arms manufacturer.
GG