Some of the most beautiful work of this craftsman, and many others, are in this book "Liège Gunmakers through their Work. 1800 - 1950".
For more detail see: LIEGE GUNMAKERS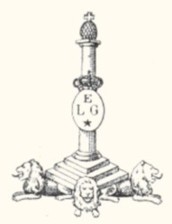 Guillaume Ledent
The weapon
Revolver with central percussion and box frame system "Top break".
This system has a part of closing or pedal placed beside the hammer which once pressed releases the part barrel cylinder and the star extractor. At the same time, the hammer puts at the safety catch.
While making rock the barrel, the pusher advances the pin to which the extractor is adapted and the casings are thus rejected cylinder.
By a contrary movement, the pusher brings back the extractor to its place and makes it possible to reload the weapon which then is closed again by the continuation of the same movement.
The grooved cylinder is with 6 shots of calibre not revealed (12 mm?).
The smooth and curved trigger is protected by a trigger guard.
The grips consists of two plates out of wooden of walnut squared maintained by a transverse screw and two rivet washers with ear.
The handle ends in a ring of cap and its screw pivot.
Technical drawing: see appendix.
Disassembling of the weapon: Against-lock G disengaged from the notch H (see sketch) by the pad J and which while turning at the point J is rejected behind, which makes it possible to dismount all the parts with the hand.
Disassembling with place as follows: the revolver being closed, by put to the key K a movement from left to right until it is disengaged from the notch L, this part being raised makes it possible to withdraw the pusher. This made, the pin can taken of the barrel and the cylinder not having more support leaves its position.
Punches
Only one punch of the proofhouse of Liege is visible on the photographs, it acts of U crowned, which is has countermark of the controller of use of 1853 to 1877.
The inventor
It is about LEDENT Guillaume, manufacturer of weapons, street Paradis, 78 in LIEGE. It was registered with the proofhouse of 1851 to 1858 then of 1867 to 1884.
The weapon is presented in a box out of wooden of oak laid out with English and furnished with green baize. Nothing seems to remain of the tools of origin, if however there existed. Only the central cartridges with percussion remain.
GG