Some of the most beautiful work of this craftsman, and many others, are in this book "Liège Gunmakers through their Work. 1800 - 1950".
For more detail see: LIEGE GUNMAKERS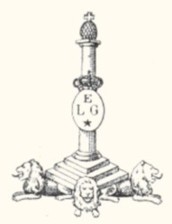 Noël Ledent
It is about a revolver of reduced size Puppy kind.
The system of opened with crack is of type S&W. The hammer is hidden way hammerless.
The trigger is folding without trigger guard.
The cylinder is grooved with 5 blows. The extractor is of type out of star.
I am unaware of the calibre (non visible on photographs)
The rifled bore is round with a triangular back sight with round point; the bead is dug in the frame.
The grips are out of ebony (or false ebony?) smooth connected by a screw and two rivet washers.
The weapon carries the lawful punches of the proofhouse of Liege, namely:
ELG on star in an oval: final acceptance, of use of 1846 to 1893.
A under star: countermark of the controller post 1877.
The weapon was thus manufactured between 1877 and 1893.
The manufacturer is identifiable by mark N.LEDENT struck an amount of grips.
It is about an arms manufacturer of BARCHON (province of Liege) named Noël LEDENT. It is known for a Belgian patent deposited in 1886 for a stop of striker applicable to the revolvers.
GG