Some of the most beautiful work of this craftsman, and many others, are in this book "Liège Gunmakers through their Work. 1800 - 1950".
For more detail see: LIEGE GUNMAKERS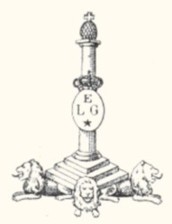 Lehanne
Description:
Pair of Belgian Single-Shot Percussion Pistols by L. Lehanne .48 caliber, 7 inch tapered barrels with silver inlaid address reading: L. Lehanne Canon Tordu. Unmarked locks. Steel furniture. Ebony ramrods with horn tips. Relief-carved checkered walnut stocks with steel oval pommel caps engraved with panoplies.
Note of the specialist
It acts of a pair of pistos of voyage to percussion and originally to flint.
The sticks in drowning squared are of type worsens and the guns in Damas.
Mark LEHANNE on the guns corresponds to an arms manufacturer family of HERVE (province of Liege), it should act of Louis Léonard LEHANNE whose dates of life correspond perfectly to the weapons!
The frips being thus of type worsens, we can deduce from it that these weapons were manufactured at the beginning of the XIX E century.
At that time, we find the LEHANNE following:
- Guillaume Joseph street of corner 18 in HERVE (life 1753/1826)
- Louis Léonard son of precedent (born 05/02/1784 and deceased in 1830)
- Jean Baptist brother of the precedent, born 31/07/1797 and deceased in 1848) It also lived street of the Corner, 18 in HERVE.
GG