Some of the most beautiful work of this craftsman, and many others, are in this book "Liège Gunmakers through their Work. 1800 - 1950".
For more detail see: LIEGE GUNMAKERS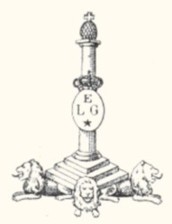 Gaspard Lejeune
Double shotgun to central fire and external hammers.
The opening is practiced using the key top between the hammers.
The unrifled and chokes bores of gauge 12 seem me to be in Damas ribbon but the photographs are hardly explicit on this subject.
Wood mounting of drowning is cut way pistol.
The weapon carries the lawful punches of the proofhouse of Liege, namely:
ELG on star in an oval under crown: acceptance post 1893.
12C in a rhombus: gauge, of use of 1898 to 1924.
Peron: inspection post 1853.
EL in English letters: provisional test, of use of 1852 to our days.
P under star and P reversed (Q?): countermarks of controllers post 1877.
CHOKE 18.0 - 17.0: chokes barrels : cal. in mm to 22 cm of the breech and the mouth, of use of 1898 to 1910.
The period of manufacture thus ranges between 1898 and 1910.
Other markings are:
GL on the barrels: it could be a question of the mark of the manufacturer of barrels of rifles Gaspard Lejeune of FORET (valley of Vesdre, province of Liege) He was member of the trade union of the manufacturers of barrels of rifles in 1907.
OYEZ ARMS C° LIEGE Belgium: (on the tape connecting the barrels) We hardly have information on this company if not that this mark was raised on a pistol of the manufacturer Nicolas PIEPER in LIEGE. This company was not registered with the registers of the proofhouse of LIEGE whereas a manufacturer of weapons of Liège was legally obliged to pass the weapons of his manufacture to the test. The question remains open and proposed to the reader's scholars.
GG