Some of the most beautiful work of this craftsman, and many others, are in this book "Liège Gunmakers through their Work. 1800 - 1950".
For more detail see: LIEGE GUNMAKERS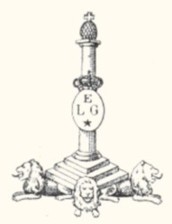 J. Lejeune & Fauve
The weapon carries the mark J. LEJEUNE & FAUVE ARMES LIEGE, this company of Liège was registered with the proofhouse of 1914 to 1925.
In 1914 it had taken again the activity of GODEFROID A and the activity proceeded at two addresses is in Liege street of University 7 and street Louvrex, 202.
This weapon carries the lawful punches of the proofhouse of Liege, namely:
ELG on star in an oval under crown: final acceptance post 1893.
K and S under star: countermarks of the controllers post 1877.
Peron: inspection post 1853.
EL in English letters: provisional test, of use of 1852 to our days.
R under crown; rifled bore, of use of 1894 to 1968.
B.BLINDEE: rifled bores of gauge higher than .22 for lined balls, of use of 1910 to 1968.
PV surmounted of a stylized lion: test with the powder without smoke, of use of 1898 to 1968.
10.1: gauge in mm, of use of 1889 to our days.
2636: job number.
GG