Some of the most beautiful work of this craftsman, and many others, are in this book "Liège Gunmakers through their Work. 1800 - 1950".
For more detail see: LIEGE GUNMAKERS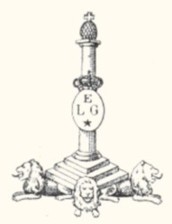 Lejeune J.
Very beautiful pinfire revolver of the type LEFAUCHEUX.
The barrel is octagonal with front sight in grain of dovetail barley assembled and slit in the peak of the hammer out of guide of bead.
The barrel is with 6 shots of a high calibre perhaps seems it of the 12 mm.
The grips seem to be out of ivory, they are joined together by a through screw and two rivet washers.
The rod at the head of nail slides in a guide integrated into the console and is maintained by a small leaf spring.
Decoration is made of sheet in bottom hollow and damas animal to fine gold.
The weapon carries the punches of the proofhouse of Liege is:
Spangled ELG in an oval: acceptance, of use of 1846 to 1893.
Y crowned (read so well?): countermark of the controller of use of 1853 to 1877.
Other marks
ACIER FONDU : without comment.
20588: job number
Crowned JL: I found a JL crowned in an oval pertaining to LEJEUNE J. street Louvrex, n° 100 in Liege. He deposited two patents in 1885 and 1906. It is however about a not confirmed assumption.
On the higher side of the barrel the name "Jose Miguel Ordonez" is most probably the name of the first owner.
GG