Some of the most beautiful work of this craftsman, and many others, are in this book "Liège Gunmakers through their Work. 1800 - 1950".
For more detail see: LIEGE GUNMAKERS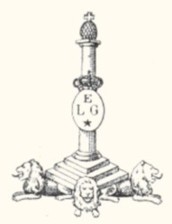 Lenoir Joseph (Without certainty)
It is of course about an authentic revolver Eugene LEFAUCHEUX which is too known to be still described. Its mark obligatorily struck the weapons manufactured under license attests some.
Then remain the mark crowned JL which is unknown for me as such and which could correspond to several arms manufacturers of Liège of the time, but judge yourself:
LECLERCQ Joseph, arms manufacturer with Saint Remy (Liege) 1859/1886.Il deposits 2 patents including one relating to a system of barrel with rocker taking care by the breech with the Lefaucheux cartouche.
LEMILLE Joseph (1836/1874) street Féronstrée in Liege.
LENOIR Joseph (1879-1881) of Blegny-Trembleur (Liege)
LHONNEUX J. Brothers (1854/1867)
LIBOTTE J. (1836/1854)
LACROIX Jacques (1873/1877)
Without more information difficult to elucidate this business.
It as should be specified as no synthesis of markings arms manufacturers of Liège was carried out before 1880, the preceding ones are identified step by step randomly discoveries on known weapons.
GG