Some of the most beautiful work of this craftsman, and many others, are in this book "Liège Gunmakers through their Work. 1800 - 1950".
For more detail see: LIEGE GUNMAKERS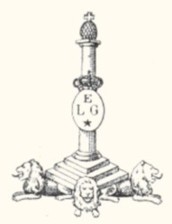 Leue & Knoll
The associate of LEUE in Liege was KNOLL Max.
It is in 1890 that max KNOLL takes again the activity of company LEUE & KNOLL registered with the proof house of Liege of 1887 to 1890.
This new company fixes its seat in Liege street of the Angels, 23 opposite the botanical garden.
It also had a branch with SUHL (D) where it stay until 1935 seems it?
Max KNOLL was, like LEUE, of german nationality. He is little known among the arms manufacturers of Liège because it left few hard copies if it is not nevertheless, ten Belgian patents of 1899 to 1914 concerning new systems and improvements with the shotguns.
This company disappeared from Liege in 1914 probably at the beginning of the First World War.
GG
PS: the reproduction of a catalog of max KNOLL (1912) is available (many weapons of hunting and description of the patents) in the book the ARMS MANUFACTURERS INHABITANT OF LIÈGE OF CATALOGS (volume 1 - 1892/1930).
See our site here : Books of our collaborators