Some of the most beautiful work of this craftsman, and many others, are in this book "Liège Gunmakers through their Work. 1800 - 1950".
For more detail see: LIEGE GUNMAKERS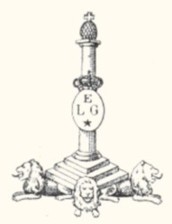 Auguste LIEGEOIS & Cie
Revolver of the type CONSTABULARY or CONSTABLE derived from the Irish R.I.C. It is with central percussion. The ellipse cylinder is equipped with six rooms (Calibre not communicated?). The striped steel barrel is with eight sides with front sight in half-moon placed in a dovetail. The weapon is equipped with a swivelling rod to introduce all with all into the rooms to expel the casings of them. The carcass comprises on the left side a pedal-safety intended to block the weapon and to prevent an inopportune shooting! The trigger is curved and protected from a trigger guard.
The loading is practiced by the right side door dropping thanks to the action of an internal spring. The handle with "busc" east seems it cast solid and squared in what seems me to be hardened rubber (to be checked?). This handle ends in a ring of cap and its screw-pivot.
Punches
This weapon carries the lawful punches of the proofhouse of LIEGE, namely:
ELG* in a crowned oval: final acceptance post 1893.
P*: countermark of the controller post 1877.
R crowned: rifled bore, of use of 1894 to 1968.
Marks
Auguste LIEGEOIS & Cie LIEGE: Auguste LIEGEOIS was first of all registered only with the proofhouse of LIEGE of 1892 to 1895. In 1895, it formed a "company" of 1895 to 1902. In 1903, the business is taken again by FRAIPONT Emile street Monulphe, 45 in LIEGE. It does not seem to have deposited patent!
A.L.C.: company Auguste LIEGEOIS since 1895.
1390: serial number.
Appendix: heading of letter of LIEGEOIS A.
GG