Some of the most beautiful work of this craftsman, and many others, are in this book "Liège Gunmakers through their Work. 1800 - 1950".
For more detail see: LIEGE GUNMAKERS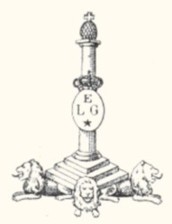 LOCHET
Vast subject, especially that we do not have of files and that we let us be obliged to fold back us on scattered documents. In short what I then to say to you here on this "family".
LOCHET Arnold, street Maghin, 53 in Liege. It is announced by the deposit into 1913 of a patent for a rifle to hammers to automatic armament. Deposit a trademark the 20.03.1912 representative an eagle drawn up the wings spread with letters A and L on each side and the mention ACIER EXTRA DEPOSE under the greenhouses.
LOCHET Frères, registered voters with the proof house of Liège of 1898 to 1908.
LOCHET Henri, manufacturer of barrels of rifles with Chaudfontaine about 1907.
LOCHET L and G, brother and sister, manufacturers of weapons and barrels of rifles, successors of L. LOCHET-HABRAN of Jupille. A patent for a shotgun in 1937.
LOCHET-HABRAN Laurent, manufacturer of weapons and barrels of rifles with Jupille. It is announced by the deposit of three patents and a trademark (LLH) deposited the 04.02.1904.
I do not have an explanation on the origin of the HABRAN come to join itself in the name of LOCHET but I believe that to be different from the other arms manufacturers bearing the same name, one of those joined with its own name, the name of his wife (from where the hyphen) It would be thus LOCHET Laurent which would have created this made up name.
I never had happiness to see a catalog of this firm, I do not even know if there are some. I do not have any image of the workshop with Jupille.
I have in fact only the publicity published on the site and one or the other which resembles to him with little thing loan (framing of crosses – Nazis if you noticed).
As for the patents, it would be perhaps possible to obtain copy of one or the other.
GG