Some of the most beautiful work of this craftsman, and many others, are in this book "Liège Gunmakers through their Work. 1800 - 1950".
For more detail see: LIEGE GUNMAKERS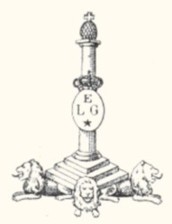 S.P.R.L. MAGI
The weapon
It is about a double shotgun of hammerless type. The unrifled bores of gauge 12 are juxtaposed. Locks are square. The stick out of wooden of walnut is "with English". The metal parts are finely engraved.
Punches
The weapon carries the lawful punches of the proofhouse of LIEGE, namely:
ELG on star in a crowned oval: final acceptance post 1893.
X and S spangled: countermarks of the controllers post 1877.
12-70 in an omega: gauge nominal and length of the casing; In use of 1924 to our days.
PV surmounted of a stylized lion: test with the powder without smoke, of use of 1898 to 1968.
Letter "e" into tiny, underlined: yearly letter of 1966.
EL in English letters: provisional test, of use of 1852 to our days.
1Kg338: weight of the barrel which can draw from the powders without smoke (weapons smooth) except for the gram. In use of 1924 to our days.
CHOKE 18.4 18.5: chokés barrels, gauged to 22 cm of the breech, of use of 1924 to 1968.
Marks
MAGI:: mark S.P.R.L. MAGI which occurred of Energy, 301 with ANS-ALLEUR (LIEGE) Successor of A.J. DEFOURNY (see publicity in appendix).
MADE IN BELGIUM: without comment.
10085 and 31720: job numbers without I being able to say which is more important than the other?
GG