Some of the most beautiful work of this craftsman, and many others, are in this book "Liège Gunmakers through their Work. 1800 - 1950".
For more detail see: LIEGE GUNMAKERS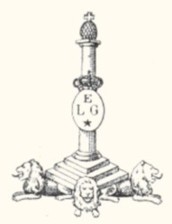 MARIETTE Denis J.J.
Revolver double action calibre 38 SW, white metal completion, grips bakelite.
Sliding extractor under the barrel.
Barrel in two sections (octagonal/round)
The removal system is very special: a button with spring is in front of the trigger guard, it opens the left side of the weapon; another button with spring under the stick (close to the ring of thin strap) opens the handle. Very simple!
Punches
The weapon carries a lawful punch of the proofhouse of Liege, namely:
N crowned: countermark of the controller of use of 1853 to 1877.
A punch ELG on star in a vertical oval representing final acceptance of use of 1846 to 1893 should be visible on the back face of the cylinder (not of photograph?)
Marks
The mark MARIETTE BTE DENIS belongs to an arms manufacturer of HERMALLE under Argenteau, close to Liege - Belgium, named MARIETTE Denis J.J.
He deposited a patent n° 069979 the 22/08/1885 for a system of closing of the plate covering the mechanism and for a mode with fastener of the band of the handle applicable to the revolvers.
It is probable that the interested party is downward of Guillaume MARIETTE of CHERATTE died in 1875??
Appendix: technical drawing of the patent.
GG