Some of the most beautiful work of this craftsman, and many others, are in this book "Liège Gunmakers through their Work. 1800 - 1950".
For more detail see: LIEGE GUNMAKERS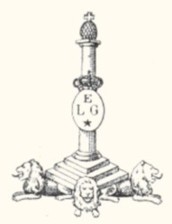 MERCIER A.
Very pretty small pocket weapon of flint and system with trunk of the type Queen Anne.
The barrel that one can unscrew for the forced ball is truncated and tulip with the mouth.
The hammer with screw is placed in the center of the trunk just like the battery.
The trigger under engraved trigger guard is right.
The stick in drowning smooth and is decorated arabesques in silver wire.
The trunk is engraved on the two faces of A.MERCIER A LIEGE.
The weapon carries several punches in hollow bottom whose significance is unfortunately unknown for me.
We notice a V crowned in an oval, one G crowned in an oval and a R crowned in an oval.
It is not a question of punches of the proof house of Liège which did not exist as such at the 18th century, it started to exist meanly only starting from the imperial decree of 1810.
They are marks specific to the manufacturer just as G marked on the lower support, I then the statement in the current state of research.
The manufacturer André MERCIER seems to have held an easy and sizeable place in the city of Liege at the end of the 18th century since we know that it had a representative with SPA town of water considered in all Europe where gratin came to take water.
We also know that it lodged a few times at his place a receiver of King de France Louis XVI.
He maintained also artillery the Citadel of Liege for 600 pounds per annum!
During period 1789/1894 the French revolution followed occurs immediately revolution inhabitant of Liège.
At the end of this one André MERCIER is ruined by the Austrians to have helped the French.
Almost blind man and poor wretch, it will have to remain while being delivered to the begging.
GG
Many thanks to "Hallantique" for the pictures
Photos Littlegun