Some of the most beautiful work of this craftsman, and many others, are in this book "Liège Gunmakers through their Work. 1800 - 1950".
For more detail see: LIEGE GUNMAKERS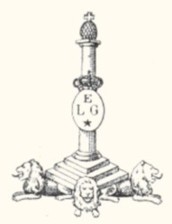 Merolla Giovanni & Francesco
The weapon
Revolver for cartridges pinfire of Lefaucheux system, box frame, probably functioning in simple and double action.
The prolongation of the higher band reinforcing the barrel and finishing, in "language of snake", by two pins fitting on both sides hammer into the back of the carcass, as well as double closing by means of screw joining together the barrel with the carcass, one traditional, of before behind, the base of this one, the other, less current, crossing the carcass laterally from left to right, while passing by the axis of the cylinder, was to ensure a good rigidity during the use.
The barrel is octagonal and striped; it carries a front sight in barley grain on the higher tape of reinforcement.
The cylinder is grooved, 6 rooms with the gauge (not communicated) 9/12 mm pinfire?
The trigger is out of ring.
The handle consist of two plates out of wooden (walnut ?) smooth joined together by a screw and two rivet washers and finished by a ring of cap.
The loading is practiced by the right side door which drops thanks to the action of an internal spring.
Nickeled completion, serrated roller of the side screw turned blue with the flame.
Punches
This weapon carries the lawful punches of the proofhouse of Liege, namely:
ELG on star in an oval: final acceptance into force of the 08/09/1846 to the 10/07/1893.
Z spangled: countermark of the controller after the 27/01/1877.
Thus this weapon was manufactured between 1877 and 1893.
Marks
Nothing. The inventor and/or the manufacturer did not leave any mark allowing identifying them. The case was common in arms manufacture of Liège of the time. Nevertheless the study of the patents (thank you Max) makes it possible to allot with certainty the paternity of this weapon to the brothers Merolla (Giovanni and Francesco), manufacturers of weapons in Naples (and Liege) - (see site)
Who deposited on January 26, 1876 a patent n° 38720 of improvement of the patent for a revolver with band of their father Merolla Salvatore (patent 21162 of March 14, 1867), and of their own patent of improvement (patent 23148 of March 13, 1868). This patent (see part annexes) is in any point in conformity with the weapon presented here.
MEROLLA
Although Italians and of Neapolitan origin, Salvatore Merolla and his sons Giovanni and Francesco (Merolla Brothers) deposited at least 15 patents in Belgium concerning of rifles and revolvers Lefaucheux system and makes manufacture the majority of their weapons in Liege (decades 1860-1870). What is worth to them to appear in the Belgian craftsmen (see also site: Italy)
HPH
Photos Alain Daubresse