Some of the most beautiful work of this craftsman, and many others, are in this book "Liège Gunmakers through their Work. 1800 - 1950".
For more detail see: LIEGE GUNMAKERS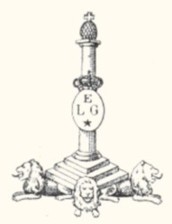 M. Michel
Belgian M. Michel Bulldog Revolver
Caliber: .500 Webley, or .500 Tranter
Serial #9337
Barrel: 102mm
Overall length: 205mm
Marks-on front of cylinder: 9
On back of cylinder: pre 1893 Liege proof
On left side of barrel: star over Z
On top o barrel (letters very faint): Broqua & Scholberg Montevideo
On left frame under grip: M. Michel
This revolver was originally nickeled, only a few small spots of the original nickel are left, it has engraving over much of the action, cylinder and even some on the barrel. The grips are very well made replacements.
Richard
You described very well your weapon and I do not see what I could add to it.
Remain mark M.MICHEL on the reinforcement which creates me problem.
Indeed I have hardly information to offer to you!
"Who's Who of the arms manufacture of Liège" announces briefly two MICHEL, namely:
MICHEL M. arms manufacturer with WANDRE (suburbs of Liege) in 1889
MICHEL F. arms manufacturer with FRAIPONT (valley of Vesdre) in 1889.
The first could be yours well.
This MICHEL M. was to be, in my opinion, a "recoupor" i.e. a subcontractor receiving the orders of the "manufacturer" (the sleeping partner actually).
The recoupor was with the head of a small rural workshop and some workmen arms manufacturers who went and came to the liking from the orders.
The site of its mark on the amount of stick consolidates me in my analysis, because the manufacturer reserved the nobler sites of marking like one or the other face of the frame or the higher side of the gun as it is here the case with BROQUA & SCHOLBERG MONTEVIDEO.
You did not discover a great name of arms manufacture of Liège but well a drudge who however deserves our respect as much.
It is very although one or the other of these marvellous craftsmen, often anonymous, leaves some time the shade, where the time which passes plunged!
GG