Some of the most beautiful work of this craftsman, and many others, are in this book "Liège Gunmakers through their Work. 1800 - 1950".
For more detail see: LIEGE GUNMAKERS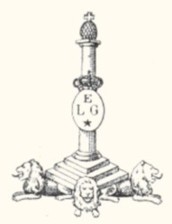 Marchand Albert & Cie
It is about a revolver of the type R.I.C (constabulary)
The octagonal barrel has a front sight in half moon.
The lock is with rebounding hammer.
Is the barrel probably grooved with six rooms (calibre?)
The loading is practiced by a side door actuated using a small internal spring.
The metal rod of unloading swivels on an axis.
A safety of the Mauser type is placed on the frame (left side)
The stick consists of two plates out of wooden of drowning squared maintained using a through screw and two rivet washers.
It ends in a metal cap and a ring.
Punches
They are the punches of the proofhouse of Liège, namely:
Spangled ELG in a crowned oval: acceptance post 1893.
L spangled countermarks of the controller post 1877.
R crowned: rifled bore post 1894.
Other marks
The mark M A C in a clover with three sheets belongs to MARCHAND Albert & Co, limited liability partnership, street New Bonne, 106 in LIEGE. Registered with the prooofhouse of 1910 to 1914.
From 1911 to 1912, it deposits 2 Belgian patents for an automatic revolver as well as a named trademark PRIOR the 27.02.1912.
C crowned: marks not identified not belonging to the proofhouse and being able to belong to the founder of barrels of Herstal?
EM GERVAIS ANVERS: it is about the retailer of the gun. He was active about 1912 in Antwerp, street Long of the hospital, n°6.
GG
Photos Littlegun