Some of the most beautiful work of this craftsman, and many others, are in this book "Liège Gunmakers through their Work. 1800 - 1950".
For more detail see: LIEGE GUNMAKERS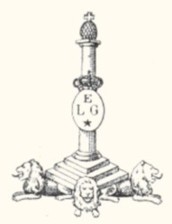 The "MARCK"
Arms manufacture of Liège was closed an enough circle where the companies were bequeathed of father and son.
The son often made their training in the family company, by facility well on but also to keep in family certain trade secrets.
Family MARCK is one of these representative families.
We count following companies MARCK:
MARCK Jean, manufacturer of weapons in Liege, registered voter with the bench of tests of Liege of 1853 to 1865, it will deposit nine patents relating to the weapons with fire.
MARCK L (Bench of test 1843/1857).
MARCK Pierre (Bench of test 1842/1889).
MARCK Emile & Brothers (Jean) registered voters with the bench of tests of Liege of 1889 to 1892; they were manufacturers of weapons with HERSTAL street Saint Lambert, 257.
They deposited ten patents of 1886 to 1889, in particular on the weapons compressed-air.
MARCK Emile & Jean, registered voters with the bench of test of Liege of 1898 to 1907, this company should be in our opinion the continuity of the preceding one. The changes of corporate name were frequent for various reasons (legal, social, tax department etc).
MARCK Jean & son, arms manufacturers in Liege. They deposit in 1882 two patents for firearms.
MARCK Jean (Establishment Jean MARCK S.A.) industrialist, registered voter with the bench of test of 1907 to 1923) the offices and the stores were located street Petite Sees, 214 in Herstal and the factory street Hoyoux, 159 in Herstal. This company deposited two patents for an air gun and an automatic target. The trademark JIM was deposited the 13.01.1931.
Below, some weapons produced by this last company.
GG