Some of the most beautiful work of this craftsman, and many others, are in this book "Liège Gunmakers through their Work. 1800 - 1950".
For more detail see: LIEGE GUNMAKERS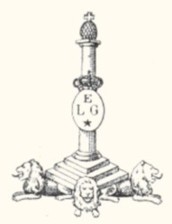 Mariette
Double rifle of hunting to central percussion.
The juxtaposed barrels are smooth and of gauge 28 (14 mm4).
The hammers are external.
The stick in wood (walnut tree) is of type "pistol".
The hand-shield is finely squared.
The system of closing of the type LECLERCQ or key snake, is a modification of closing with double bolt with side lever.
The lever bolt instead of being placed in front of the trigger guard, circumvents locks it and comes to finish close to the place which the inch occupies when rifle is held.
This very practical lever actuates the opening of the rocker with the greatest facility.
The weapon carries the punches of the proofhouse of Liege, namely:
ELG on star in a crowned oval: acceptance post 1893.
J spangled: countermark of the controller post 1877.
Peron: inspection post 1853.
EL in cursive letters: provisional test, of use of 1852 to our days.
28 C in a rhombus on point: gauge, of use of 1898 to 1924.
Time of manufacture: between 1898 and 1924.
Manufacturer:
The MARIETTE mark is struck between the barrels. She does not present a first name what complicates the identification because the named arms manufacturers MARIETTE were numerous.
By considering the period of manufacture (between 1898 and 1924), we can eliminate several for only retaining from them:
MARIETTE Dieudonné of HOIGNEE-CHERATTE, registered to the proofhouse of 1904 to 1922 and which is the author of 23 Belgian patents.
MARIETTE E. HOIGNEE-CHERATTE, registered to the proofhouse of 1911 to 1912 and which will deposit 2 Belgian patents.
MARIETTE-CERFONTAINE Dieudonné which is perhaps the same one as the first quoted, manufacturer of weapons with CHERATTE and which of 1891 to 1908 deposits three patents.
GG