Some of the most beautiful work of this craftsman, and many others, are in this book "Liège Gunmakers through their Work. 1800 - 1950".
For more detail see: LIEGE GUNMAKERS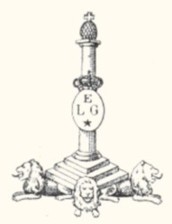 Mariette breveté
A "Mariette breveté" interesting and rare, 9 mm standard Flobert peperbox with foldable extension under the trigger.
Bert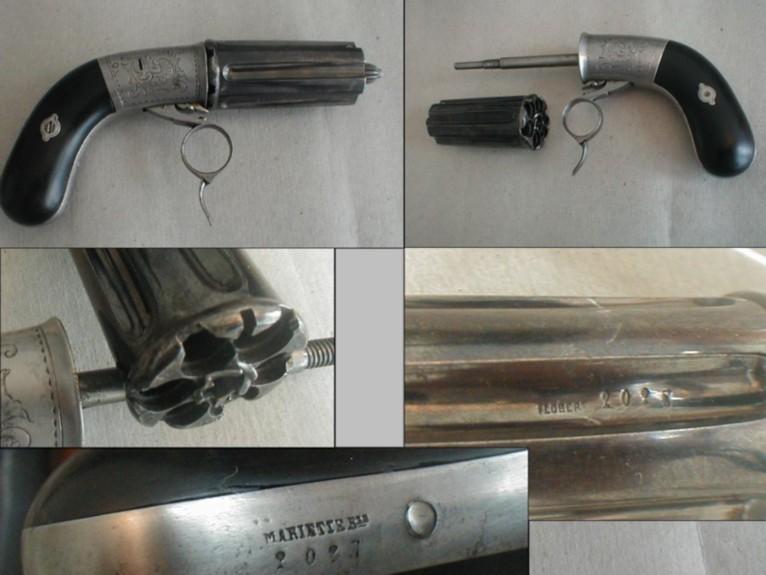 MARIETTE J. & fils
This open framework and pinfire revolver is equipped with a full barrel.
The round barrel measures 159 mm and the overall length is of 286 mm.
The caliber is of 12 mm.
The sights are raised to be able to aim when that the hammer is armed.
The block barrel cylinder placed on the central axis is maintained by a screw knurled in front of the trigger guard.
The operation of this screw makes it possible to release the block barrel cylinder and to advance it forwards, thus allowing the loading/unloading.
Could the squared plates of black color be in (forgery?) ebony?
The weapon carries spangled punch ELG in an oval (1846/1893) of the house of tests of Liege.
It also carries under the plates the marks F. - ON - M which are probably marks of workshop and/or subcontractors.
Finally the mark MARIETTE BREVETE corresponds to patent 013621 of the 22.10.1862 deposited by MARIETTE J. & Fils of Hoignée-Cheratte (suburbs of Liege).
The interested party deposited 3 patents until 1865.
Appendix: drawing of the patent in question.
GG