Some of the most beautiful work of this craftsman, and many others, are in this book "Liège Gunmakers through their Work. 1800 - 1950".
For more detail see: LIEGE GUNMAKERS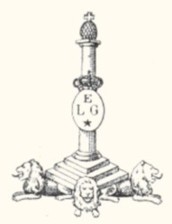 Neufcour J. E.
Percussion pistol to charge by the mouth with black powder intended for the civil market. The lock is of type "ahead" without mark of manufacturer. Counter-platinum is made up only of only one screw. The barrel with stripes hair is with 8 sides and is fixed by key. The trigger guard is with rest-finger. The stick in walnut is of style worsens with squaring with the catch in hand.
It carries a punch of the proofhouse of LIEGE, namely:
ELG on star with 5 forms in a vertical oval: acceptance of use of 1818 to 1893.
The weapon also carries some marks, namely:
391: it is most probably about a serial number.
J E NR on the barrel: it is probably about a mark of the manufacturer of the weapon or the manufacturer of the barrel? I did not discover this mark in the files, I thus emit assumptions of NEUFCOUR J.E arms manufacturer in LIEGE, it deposited 4 patents arms manufacturers during time 1849/50. I quote this arms manufacturer because the initial correspond and it is only in Who's Who arms manufacture of Liège!
I III on mounting: it acts in my opinion of a mark of "equipor", those marked their parts with marks resembling Roman numerals.
The others mark MP sun - NC and V are unfortunately unknown for me, they make me think of marks of subcontractors.
GG