Some of the most beautiful work of this craftsman, and many others, are in this book "Liège Gunmakers through their Work. 1800 - 1950".
For more detail see: LIEGE GUNMAKERS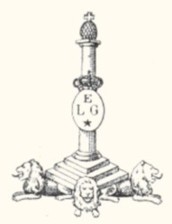 NEUPREZ Frères
The punch on the barrels representing letters ACN in a circle is the mark of the manufacturer of barrels of rifles NEUPREZ Frères Street Bonne Nouvelle, 11 in Liege about 1924. The manufacturer of the complete weapon remains anonymous of share the absence of his mark.
GG