Some of the most beautiful work of this craftsman, and many others, are in this book "Liège Gunmakers through their Work. 1800 - 1950".
For more detail see: LIEGE GUNMAKERS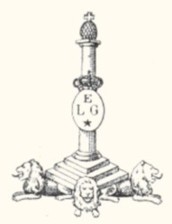 New Haven Arms
The weapon
It is about a shotgun to central percussion.
The steel barrels are smooth and juxtaposed.
They with gauge 12 (18,2 mm) and are chokes.
Locks are "ahead" with hammers external and key of opening between those.
The trigger is double under trigger guard.
The stick out of wooden of walnut (?) is of type "pistol".
Punches
The weapon is struck punches of the proofhouse of Liege, namely:
ELG on star in an oval under crown: final acceptance post 1893.
Peron: inspection post 1853.
T and V spangled: countermarks of the controllers post 1877.
EL in English letters: provisional test, of use of 1852 to our days.
12 C in a rhombus: gauge, of use of 1898 to 1924.
17,4: gauge in mm, of use of 1889 to our days.
18.0/18.0: chokes barrels gauged in mm to 22 cm of the breech and the mouth. In use of 1910 to 1924.
The manufacturer
129: should be a serial number?
The punches teach us that the weapon was manufactured in LIEGE between 1910 and 1924.
New Haven Arms is probably a trademark fictitious because it does not appear in documentation, just like the word INTERCHANGEABLE which us was already announced on the mark REGENT ARMS quite as unknown!
These fictitious denominations were not rare in LIEGE at this time, they were probably intended to mislead the customs of the countries of South America large importers of weapons of Liege. It's also probable that the import duties were important! The traffic of weapons was currency running fine of the XIXe beginning of the XXe century.
For the small history, documentation gives a report on a mark REGENT allotted in 1913 to the manufacturer SCHNORRENBERG W & Fils street of the South, 5 in Brussels. We are unaware of if there is correlation between these elements?
GG