Some of the most beautiful work of this craftsman, and many others, are in this book "Liège Gunmakers through their Work. 1800 - 1950".
For more detail see: LIEGE GUNMAKERS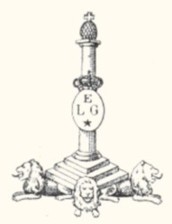 J. Noisette
The weapon
It is about a shotgun to central percussion with lock hammerless.
Rocking is made using the key "top lever" placed at the top of the lock with a safety to slide of the type "Galand".
The forearm is withdrawn using a pushbutton called "to pump".
The steel barrels are juxtaposed and smooth of gauge 12.
The stick is out of wood of clearly walnut worked "pistol" with buttplate in rubber.
Punches
The weapon carries the lawful punches of the proofhouse of Liege, namely:
ELG on star in a crowned oval: final acceptance post 1893.
Peron: inspection, of use of 1853 to our days.
Greek letter pi: yearly letter of 1957 (date of manufacture).
PV surmounted of a stylized lion: test with the powder without smoke, of use of 1898 to 1968.
L and T spangled: countermarks of the controllers, of use of 1877 to 1968.
12-70 in a letter omega: gauge nominal and length of the casing, of use of 1924 with our days.
2 kg 405: weight of the barrel which can draw from the powders without smoke (weapons smooth) to the gram near. In use of 1924 to our days.
CHOKE 18.4 (dubious and incomplete reading) chokes barrels: gauged to 22 cm of the breech. In use of 1924 to 1968.
Marks
Of the manufacturer: nothing!
The salesman: like announcing it to you, it should act of Adolphe JANSEN street of the Madeleine, 27 in BRUSSELS. This arms manufacturer and his substitutes were active 1835 to 1958.
J N in an oval lying: mark unknown. As well in the manufacturers as at the gunners.
The assumption of active garnissor J.NOISETTE in 1948 corresponds at the time of manufacture of the weapon and is not thus to scorn. See its mark in appendix, it is a question of JN in a rectangle but the form could evolve with the time.
5578: serial number.
GG