Some of the most beautiful work of this craftsman, and many others, are in this book "Liège Gunmakers through their Work. 1800 - 1950".
For more detail see: LIEGE GUNMAKERS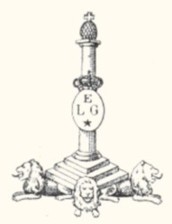 Paulus J. B.
This revolver is of type "bulldog" of Liège, of a very current manufacture at the beginning of the 20th century.
The lock is with rebounding hammer of type WARNANT.
The barrel is round and is equipped with a handlebar in half-moon.
The cylinder (to 5 or 6 blows) is not grooved - unknown calibre.
The little grips worked are in gutta-percha, joined together by a screw crossing and two rivet washers.
The rod slides in a guide integrated into the console and is maintained by a small leaf spring.
The weapon carries the lawful punches of the bench of tests of Liege, that is to say:
Spangled ELG in a crowned oval: acceptance post 1893.
B spangled: countermark of the controller post 1877.
R crowned: rifled bore, of use of 1894 to 1968.
For the mark struck an amount of stick, it does not appear in the collection of the marks of arms manufacture of Liège.
By basing me over the letters and the time of the weapon (beginning 20th century) I put forth the assumption that it could possibly belong to:
PAULUS J.B street Marie-Louise Naveau with JUPILLE Lez LIEGE.
It was made known as arms manufacturer in 1928 by the deposit of a patent for a rifle hammerless with a blow!
GG