Some of the most beautiful work of this craftsman, and many others, are in this book "Liège Gunmakers through their Work. 1800 - 1950".
For more detail see: LIEGE GUNMAKERS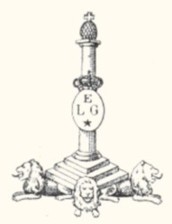 J.A. Petry Fils
Marked "C. SHARPS / PATENT 1859" in a circle around the hammer screw on both sides of the frame. These marks indicate that this was one of the few pistols licensed by Christian Sharps for manufacture in Europe.
However, the top of the barrels are engraved "J A PETRY FILS / A LIEGE" and this firm was not one of the licensed.
It's possible that they were dealers instead of the actual makers, since it shows a great similarity to those pistols made by Ghaye, who was one of the licensees. Besides the lever, there is also a sliding safety at the rear of the hammer. Both of these features were shown on Sharps' original patent.
Not shown on the patent are the rotating extractors mounted on both sides of the breech and the separate rear end of the barrel required for their operation. Other features that seem more related to Sharps 1861 patent as used on the Sharps & Hankins include the shape of the lever, the lever catch, and the exterior trigger spring, screwed to the bottom of the frame spur. The extractors have operating arms at the rear of the standing breech. The front ends are shaped to clear the rims of the ridges when the arms are in the raised position. When the arms are down, edges of the front go in front of the rims. There are holes in the added breech of the barrel to accept the front end of the extractor in either position. There are individual holes in the face of the standing breech for the nose of the firing pin.
The frame has typical Belgian shell and scroll engraving. A Liege proofmark and a "crown / V" proofmark appear on the bottom of the barrel. A long inscription "Prince Hovansky / to his best friend / Richard Conrads" is engraved in script on the frame above the hammer. Neither of these has been identified. Only a handful of these lever action four barrel pistols are known.
Who's Who manufacturers of weapons of Liège teach us that Petry J. Auguste was registered with the proofhouse of Liege of 1842 to 1867. In 1862, it deposits a Belgian patent for a closing of rifle loaded by the breech.