Some of the most beautiful work of this craftsman, and many others, are in this book "Liège Gunmakers through their Work. 1800 - 1950".
For more detail see: LIEGE GUNMAKERS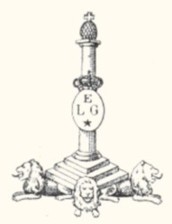 F. Poncin
The weapon
It is about a pistol flintlock with trunk called "to Scottish"
The lock is thus placed in this trunk and the hammer occupies a central position, just like the small basin dug with the top of the barrel and the battery.
The barrel is truncated and is profiled with the mouth.
The trigger, right-hand side and smooth, are protected by a trigger guard.
The tail of breech is fixed at mounting by a wood screw.
This type of weapon was often "entirely out of iron grips included" but the photographs don't enable me to differentiate metal from wood??
Punches
Nothing.
Marks
The lock is engraved on each side of the mention F. PONSIN in LIEGE.
Several arms manufacturers of the XVIIe century carried this patronym, namely:
PONSIN Michel manufacturer of weapons in Liege (1679/1699)
PONSIN Ailib, arms manufacturer in Liege about 1740.
But also:
PONSIN Pierre arquebusier in Liege 1685/1735 also named BONSING Dutch.
PONSIN arquebusier in Liege 1750/1760
However I could not find any PONSIN F in documentation (Stockel etc….)
Engravings
The weapon carries a fine engraving of foliage.
GG